If you know me, then you know I AM ALWAYS RUNNING LATE! It's not something that I'm proud of and have been working on it my ENTIRE life! As a result, I have developed certain skills for coping with different situations in my life and most specifically FASHION EMERGENCIES! What I consider normal life, some would consider FASHION/STYLE HACKS. ;)
STYLE Rx:Look like a Fashion Girl (even when you're a lazy girl) with these easy and time saving fashion/style hacks!
Here's the situation... I've forgotten to get something hemmed, bought something on sale that wasn't the right size, running late (the usual), and so on and so forth! My mishaps/unorganized-frantic-running-around-to-get-ready strategies could actually benefit YOU! LOL! It's so humorous to me! Some of these may be considered ghetto or even janky, but I consider myself resourceful!
These are my style hacks that will hopefully make your life easier too! Let me know if any of these sound familiar.

[ original post here]
1 // HEM SKINNY JEANS BY FOLDING THEM UNDER (1 minute)
At 5'4″, shortening the hem is usually a given for almost ALL jeans and pants unless they are cropped/petite. Since the raw hem is now on trend, I've learned how to do my own raw hems do my own raw hems. However, sometimes I just DON'T HAVE TIME! That's exactly when this trick works so well! Just fold them under! VOILA!! I've done this countless times. In the above picture with the gals, I had to use this trick!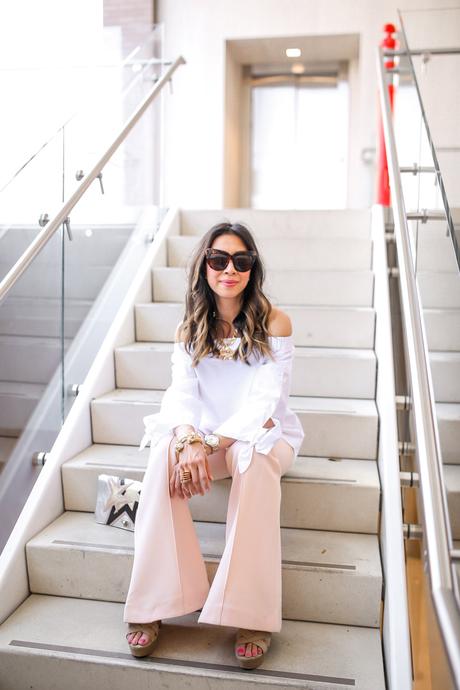 [ original post here]
2 // IRON ON TAPE TO HEM FLARE JEANS OR TROUSERS (5-10 minutes)
"What about flare jeans or trousers?" you say. Well, y'all, I ALSO have a trick for that which takes a little longer (unless you have a hemming/sewing machine and mad skills)! This fabulous iron-on hem tape will keep your pants right at the length needed until you have a chance to get it altered. I think it's supposed to be temporary but maybe you can use it permanently? Anyhow, I used this method to hem the pants in the above picture until I could bring it to the tailor!
3 // MAKING A DRESS SMALLER WITH A BROOCH (2 minutes)
Sometimes I find a dress on sale that I REALLY LOVE but isn't the right size. If it's too big, then you can always have it altered to fit correctly depending on the construction. The problems comes when you buy, then leave it in your closet, then want to wear it... but it's still too big!
Enter the magic brooch!! Brooches are back in style but I have ALWAYS loved them. See this blog post on ELEVEN different ways to wear a brooch! They are a fabulous accessory to get make something too big just the right size AND look beautiful.
I used a butterfly brooch to tighten the waist of this floral dress that I got on sale! (I forgot to take a picture of the back, but you can use the above blog link for a visual.) The ONLY thing is that it is NOT comfortable driving so keep that in mind if you are headed somewhere!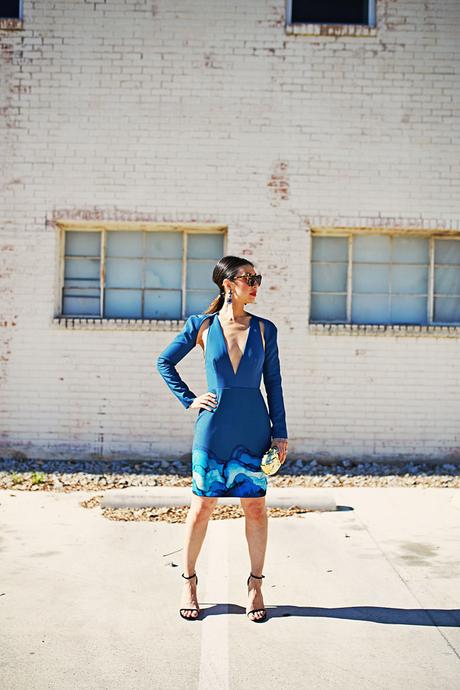 [ original post here]
4 // KEEP A LOW CUT DRESS IN PLACE (1 minute)
I learned this trick from my professional stylist friend, Jenny Davis! If toupee tape can keep hair on a head, then it can keep clothes on your body! LOL! I WISH I would have known about this trip when I shot these photos. I was using fashion tape but it doesn't work that well! I know because I wore this to Vegas with Mr. S and I had to sit up really straight or the tape would unstick and people would get a peep show!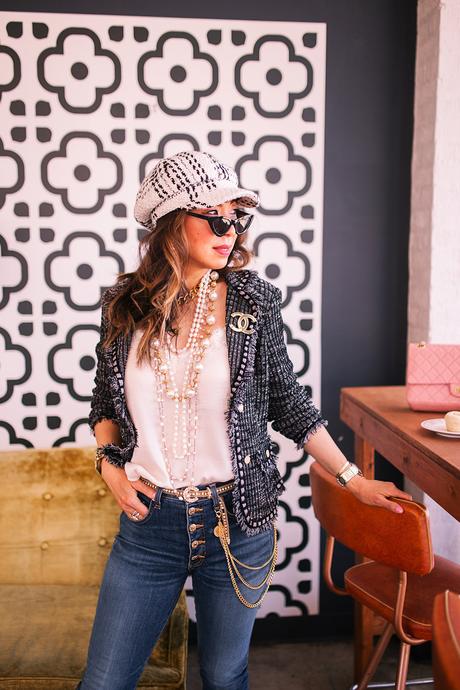 [ original post here]
5 // KEEP SLEEVES UP WITH A HIDDEN HAIR TIE (1-2 minutes)
Sometimes, all your top or blazer needs is a little styling! To make anything look kind of "cool" or "chic", I usually push up my sleeves. It's kind of annoying and such a bummer when they keep falling down. And so I use a LOOSE hair tie to keep everything in its place. If it's a brand new elastic, then stretch it out for a bit so it doesn't cut off your arm circulation. The last thing we need is an amputated arm in the name of fashion!!! The trick is the push your sleeves to where you want it, put on the elastic, and then hide it under the scrunching/folds or cuff the bottom! VOILA!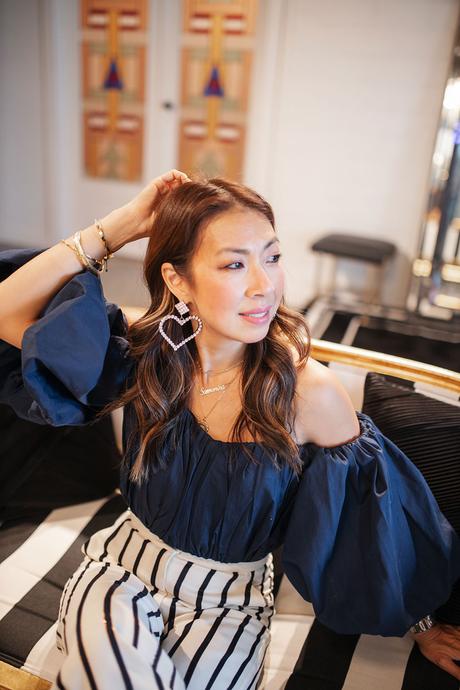 6 // SHORTEN NECKLACES WITH A HAIR TIE OR LENGTHEN WITH A SAFETY PIN (1 minute)
I LOVE layering necklaces (see this blog post) and sometimes a necklace just isn't the correct length to layer or with a specific neckline! And this is when the magic of a hair tie helps AGAIN! Just hold the necklace to the length desired and then secure the with hair band. (See this post for actual specifics! It's old - no judging!) If you have shorter hair or your hair will be up, then use a ribbon or skinny scarf instead! Again, check out that past post for how to pictures!
I did this trick with the "Samantha" name necklace (in the above picture) so it would layer correctly with my other necklaces!
Conversely, if you need to add a little length, then use a safety pin (size depending on length needed) to make your necklace up to an inch longer!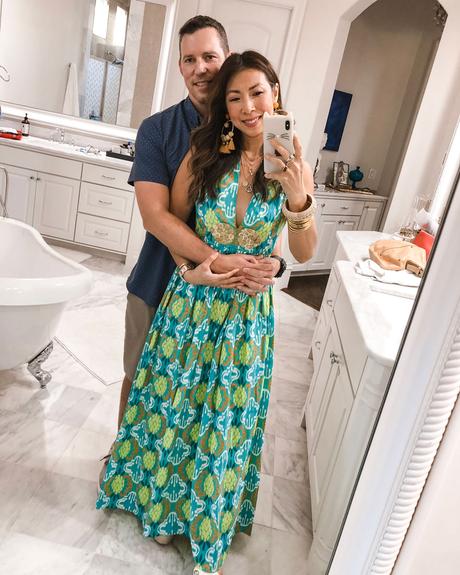 7 // TAKING IN THE WAIST, STRAPS, AND OTHER THINGS WITH SAFETY PINS (5 minutes)
Since we are on the subject of safety pins, they are AMAZING at fashion hacks (as long as they stay closed)! LOL! I've taken in waistlines, shoulder straps, and the underarm area (in the above Sheridan French dress) when I want to wear something but forgot to get it altered prior to an event.
While your clothes are off, safety pin the amount it needs to be taken in from the inside at the seam. Let me know if that makes sense. If needed, then I can add an additional picture.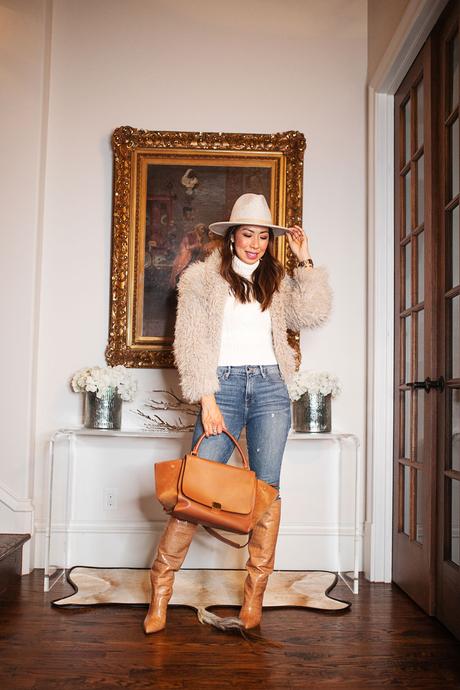 [ original post here]
8 // MAKE A FEDORA HAT (STRUCTURED HAT) SMALLER (1 minute)
When you have a structured hat that is too big, then you can fold up a paper towel, piece of paper, or material long ways and place it between the sweatband/inner band and crown of the hat.
I attached a picture of the anatomy of a hat for your reference c/o Hats Unlimited!
My fedora hat in the above picture is actually too big and adding that extra "padding" helps keep in on my bed! I did it first years ago with my cowboy hat and it works like a charm!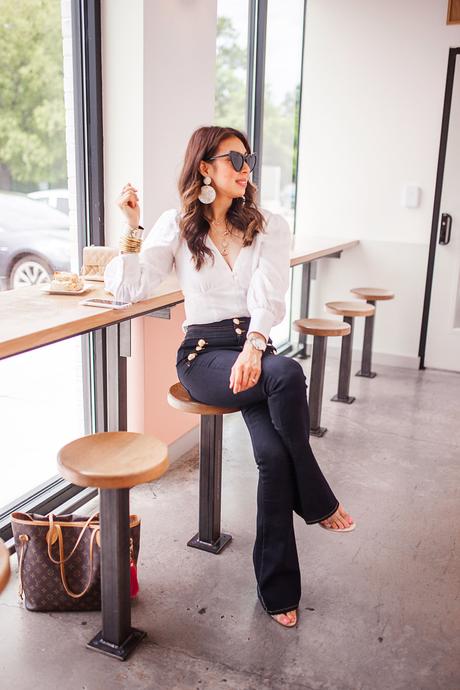 [ original post here]
9 // GET WRINKLES OUT WITH WATER AND YOUR HAND (2-10 minutes)
This trick is compliments of one of my best friends is laugh worthy but ACTUALLY WORKS! I've done this SO MANY TIMES in the above white linen top!
When you're wrinkled, (with your clothes on) get your hands wet and then pat all the wrinkles on your clothing. It may take a couple of time to fully cover the wrinkles with water, but you will dry wrinkle-free by the time you get to work/school/event/etc. It's a little cold in Winter, but I usually turn up the heat in the car! NOTE: DO NOT do this with delicate fabrics like silk unless you've tested it! Also, it may not work for items that are TOO wrinkled.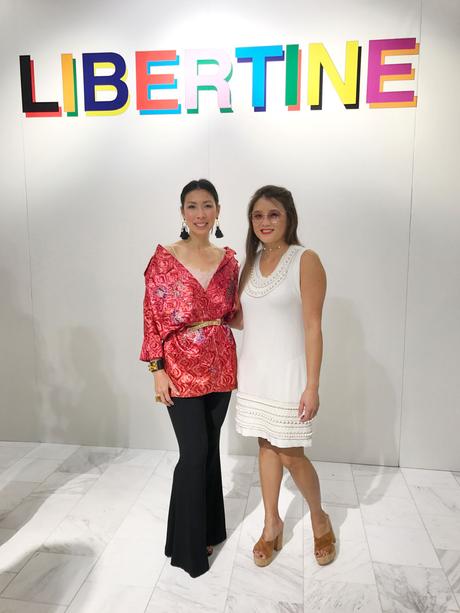 10 // WEAR SOMETHING OVERSIZED OFF THE SHOULDER AND/OR BELTED (5 minutes)
Sometimes, I ABSOLUTELY love a clothing piece but it's not the right size (too big). You can change the way it looks by either draping, belting, or pinning it. In the above photo with my friend Katherine, I wore an oversized opera jacket by leaving it open as an off the shoulder top (with a cami underneath) and belting it! In this blog post, I belted an oversized poncho to give waist definition! In t his blog post, I pinned a cardigan to wear it as a top! You can be creative, and these are just a few ways to approach something that is a little off in size!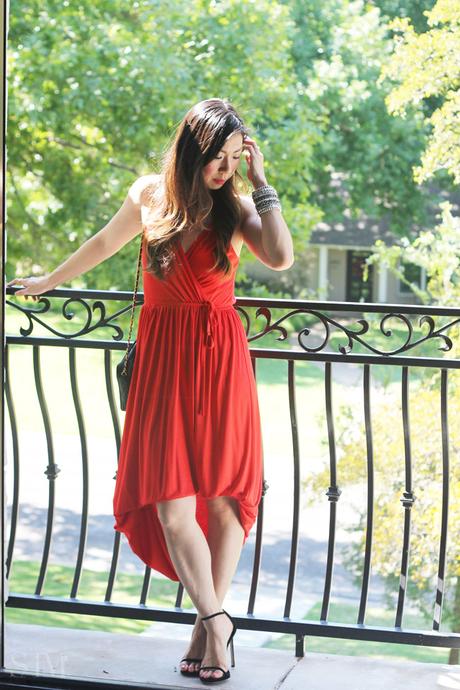 BONUS // HIDE STAINS ON A MAXI DRESS BY PINNING IT UNDER (2 minutes)
This is just helpful if you tend to be a little messy like me! It never fails that some random food stain shows up on my dress. If it's on part of the skirt, then you can hide it by pinning the skirt part under as demonstrated in this post!
*****
Hope this was super helpful for y'all! If anything needs clarification, then please let me know in the comments!
WHAT DO YOU THINK OF THESE FASHION/STYLE HACKS? ARE THESE NEW OR HAVE YOU HEARD OF THESE BEFORE?
Happy Wednesday Y'all! I am SO TIRED from last week that I could take a 2 -6 year nap! LOL! Is that possible? I shopped a preview party for Giambatista Valli x HM, spoke on a PAIRR Empowerment panel, went to the Auto Show, attended a holiday party, and birthday party. Anyhow, I'm trying to get caught up on everything and start planning Thanksgiving since we are hosting! I'm thinking simple and EASY!!
What are you up to Mid-week?
BTW, don't forget that the Black Friday Giveaway is still going on! Enter below!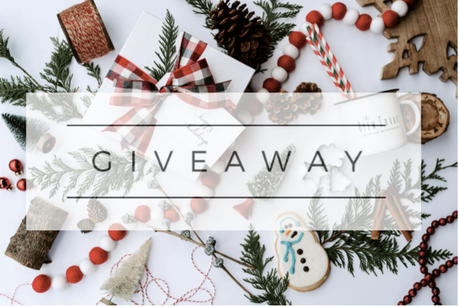 We're making a list and checking it twice!
I've teamed up with an amazing group of bloggers
to give YOU a chance to win:
a $1,000 Amazon Gift Card, just in time to complete your holiday wish list!
Simply enter below by completing the rafflecopter.
You'll receive one entry per completion.
This giveaway is open to the U.S. and Canada only and runs until 11/20.
Winner will be announced here. Good Luck!
Void where prohibited.
By entering the giveaway you acknowledge that you are agreeing to complete each task,
which involves following, liking and subscribing to newsletter's.
a Rafflecopter giveaway

♥︎ ♥︎ STAY GLAM, DO GOOD ♥︎ ♥︎
Thank you so much for stopping by and supporting SOS!
JOIN THE #GLAMFAM // SIGN UP FOR THE NEWSLETTER BY CLICKING HERE.
CHECK OUT MY INSTAGRAM SHOP HERE TO SHOP ALL OF MY INSTAGRAM LOOKS!