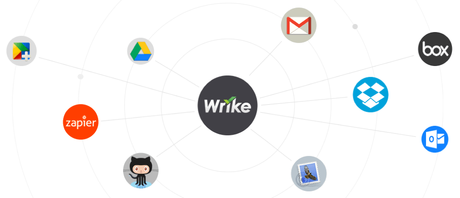 Wrike is a flexible and full-featured project management software that organizes all your operations in one central place, keeps your team working in harmony, and integrates with dozens of tools you're probably already using for your marketing campaigns.
The list of Wrike's features and benefits is a long one. I've picked the top 10 reasons why you might just love this software for project management for your organization:
Integration with other tools your company may be using, including Salesforce, Microsoft Office, and Google business apps (Drive, Gmail, etc.) means your team can work in Wrike and use the tools they're already used to. Wrike also has an email integration, which turns email messages into Wrike tasks right from your inbox.
Communication is crucial to keeping teams productive and happy. Wrike's online collaboration software makes it easy for your team to stay on the same page through discussions in the task comments section and also through the real-time Activity Stream newsfeed, which provides at-a-glance updates of work updates and status. You can also communicate through Wrike with people outside your team by inviting them as collaborators, so keeping clients updated is a breeze.
Reporting on project status and budget is something project managers are often asked to provide by clients who value transparency. Real-time reports on project status and team performance, in addition to interactive Gantt charts make analyzing and reporting efficient and effective.

Wrike is agile enough to replace clunky and chaotic methods of doing business, like relying only on email threads to keep your team in the loop, sharing files as email attachments or in various unorganized cloud services, and using spreadsheets to keep track of work. If you've ever experienced miscommunications or mistakes by using these methods, you know they can cost waste productivity, time, and even money. Wrike saves you the hassle by allowing your team to communicate, share files, and track time spent all in one place.
Real-time collaboration is easy with Wrike's file editing function. This function allows your team members to work on documents right in Wrike's interface without the need to download files first and re-upload as a new version. It also keeps track of version histories, so your team always knows which document is the most up-to-date. This reduces the chances of duplicate work, lost files, and overall confusion.
Wrike's project management software for marketers & creative teams is flexible enough to work for any type of team, whether it's a marketing and creative team, product development team, project management team or others. If you have a group of employees or contractors working for your business Wrike can unite them by allowing you to invite them as collaborators and selectively share certain tasks or projects.
Securing your data is tough when your company uses email to share information and documents. Wrike protects data with encryption, mobile security, regular backups and more. You don't have to worry about exposing sensitive client data to third parties and you don't have to worry about losing files in a crash.

Access control to files and functions in Wrike is given at the user account level so you can grant it on a need-to-know basis. Leaders can have full access and control while lower level employees or contractors may access what is only pertinent to their particular work.
Because your team can keep track of project status at a glance and communicate in one centralized place, Wrike reduces the need for spending time in status meetings or on project calls. That means more time spent working and achieving goals.
Wrike has free mobile apps for Android and iPhone, so your team stays securely connected while on the go. You can give feedback, update tasks, attach photos to tasks, and more from wherever you are.
If Wrike sounds like a good option for your marketing and business operations, visit Wrike.com to learn more. The company is also offers a free two-week trial.