When you want to get creative with your gift-giving, unique stocking stuffers are the way to go. They might be the least expensive items on your gift-giving list, and often they're last-minute picks, but that doesn't mean that stocking stuffers can't be just as thoughtful as the other gifts you plan on giving. Whether whimsical, practical, or somewhere in between, these smaller gifts can be thoughtful, fun, and exciting to give. For the food lovers, cooks, and entertainers in your life, we've put together a list of creative and useful stocking stuffers.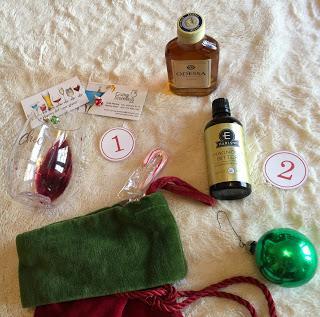 For the entertainers in your life, we love these useful little gems from Going Stemless™. These upscale magnetic cocktail charms are for use on ALL drinkware, especially stemless wine and champagne glasses on which traditional wine charms can't be used. They also work well on tumblers and acrylics for outdoor get-togethers! Available is sets of six online or in Atlanta at The Cook's Warehouse for $23.
For your favorite mixologist, we highly recommend E. Harlow Magnolia Bitters from PourTaste. Magnolia blossoms are used as an aromatic and flavoring agent in these floral and slightly piney bitters that are sure to wow. The unique flavor profile shines brightest with clear spirits but also brings a refreshing nuance to brown spirits.  From PourTaste for $20. 
Perfect for cooks and bakers, IKEA's 100% cotton dishtowels are the ticket! A gifting trifecta of durable, inexpensive and cute, these workhorses serve as potholders, bar mops and are even pretty enough to stand in for napkins. Packs of four for $3.99 from IKEA.
You can impress even the most hardcore chef with a Gray Kunz plating spoon. An elegant, ergonomic, stainless-steel spoon hefty enough to crack crab claws. Designed by chef Gray Kunz at Lespinasse has a generous bowl with a tapered edge allowing for precision when saucing a dish or making quenelles. Its handle is shorter and narrower than most chefs' spoons, making it easier to hold and control. Twenty years ago, you could only get a Kunz spoon if you worked at Lespinasse. Now you can get them online or in Atlanta from The Cook's Warehouse for $20.
Less-than-sharp blades are major contributors to injury during holiday meal preparation. AnySharp Metal Pro Sharpener turns a dull knife (even one with a serrated edge) into a razor-sharp cutting instrument in seconds with just a few light strokes. AnySharp Pro securely attaches to a smooth surface or worktop with a PowerGrip suction base to ensure a safe sharpening process and is small enough to tuck into a drawer for everyday use. Available from Amazon for $16.
In every kitchen in the nation you will find zip-top bags, but Kikkerland Mason Jar Stand-Up Zipper Storage Bags are not only adorable, but they are reusable as well. Modeled after classic French jam jars or swing-top jars, their clever design allows bags to stand when filled. Available in packs of 2, 3 or 4 online or in Atlanta at Richard's Variety Store for $4.00.
Anyone that spends anytime in the kitchen whether it's prepping, cooking, or washing dishes will completely appreciate a little TLC for their hands! Soaps designed to clean (Lava) and care for (Mrs. Meyers) hands, and lotions (Cucina) and creams (Burt's Bees) designed to hydrate and nourish are a must for any friend that spends time in the kitchen. Prices range from $2 to $20 at major retailers and Amazon.
Anyone who enjoys their Saturday morning outing to local Farmer's Markets or foraging during a hike in the woods will find the Matador Daylite16 Backpack to be a MUST. Ultra-lightweight and compact, the Daylite16 is built from waterproof Cordura® ripstop material and has a 16-liter capacity which packs away to fit in the palm of your hand. Order directly from Matador for $50.
For those food-enthusiasts who can't resist taking a picture of each dish and posting to Instagram before indulging their tastebuds, needs these super portable, easy-to-use, clip-on camera lenses for mobile phones. With many options, our favorite comes with universal 5-in-1 lens available from Amazon for $14.
Know someone that loves to eat but hates to cook? An Atlanta Dining Out Passbook will be the perfect gift. You can purchase a 2017 Passbook for ONLY $35 (65% off the regular price of $99) from DiningOut Atlanta using code 2DINEPASS2017. And, in the true sense of the season, all proceeds from the book go to The Giving Kitchen! This unique deal book features two-for-one entrées and other offers at more than 70 restaurants across Atlanta including Argosy, Bellwoods Social House, Bite Bistro & Bar, Campagnolo Restaurant & Bar, Einstein's, Food 101, Meehan's Public House, Murphy's, Naan Stop, One Midtown Kitchen, Parish, Park Tavern, Sun In My Belly, Smoke Ring BBQ, STK, Tabla, TAP, Whisky Mistress, Zocalo and many others.