In Los Angeles, a fundraiser celebrates modern architecture for felines. Slideshow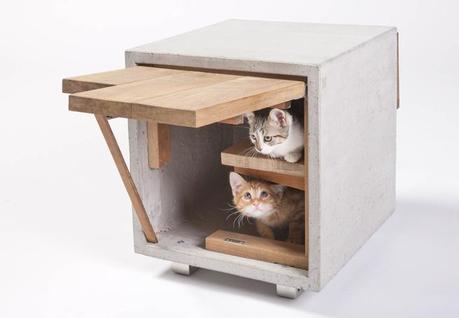 The Cat Cube by Standard Architecture | Design of Los Angeles has two openings and is made with reclaimed wood and concrete. The concrete heats up during the day to provide strays with a source of warmth at night.
Image courtesy of Grey Crawford.
More than a dozen of the Los Angeles area's top architecture and design firms came together at the Herman Miller showroom in Culver City last week to show off modern shelters they had created for a particularly fussy set of clients: cats.
The event, held September 10, was a fundraiser for FixNation, a nonprofit organization dedicated to minimizing cat populations through spaying and neutering, particularly of feral strays.
"The architectural community in Los Angeles is outstanding," says Karn Myers, a cofounder and the executive director of FixNation. "We are so grateful to the participating design firms who are generously devoting their talent, creativity, and compassion in support of FixNation. Because of FixNation's programs and the dedication of hundreds of volunteers across the city and county, many cats are able to live healthier, happier lives.
Click through the slideshow to see examples of some of the cat shelters that were on display.