This 10 Minute Crunchy Rainbow Thai Salad is the easiest side dish and full of fresh, crunchy vegetables, cilantro, cashews and a tangy peanut dressing.
I don't know about you, but I'm ALWAYS on the lookout for easy side dish recipes…and today's recipe? It's ready in ten minutes. Maybe even less!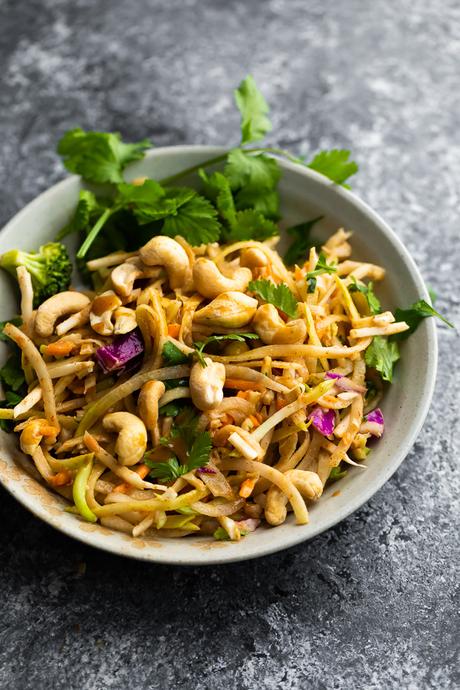 Disclaimer: I received products from Mann's Fresh Vegetables and was compensated monetarily for this post. All opinions are my own. Thank you for supporting the brands that I love!
Thanks to Mann's Kohlrabi 'Linguine' and Rainbow Salad, all you need to do for this crunchy rainbow Thai salad is chop some cilantro and shake up a quick dressing!
Mann's Rainbow Salad contains cauliflower, broccoli, carrots and cabbage, and paired with their Kohlrabi 'Linguine', it makes this Thai salad so easy to throw together. This salad is rich in vitamins A and C and low in carbs and calories.
Not only is it quick to make but so full of flavor. This salad is perfect for a picnic or summer barbecue…who is getting excited for summer barbecues? ME!
Reasons to love this crunchy rainbow Thai salad
it's ready in 10 minutes
it is light, crunchy and full of flavor
it's low in carbs and calories and makes the perfect side dish