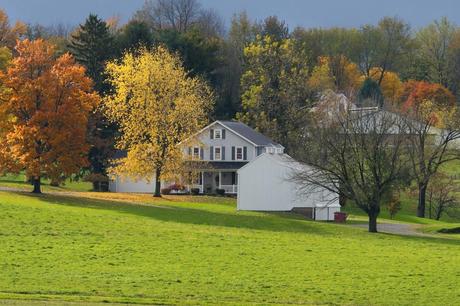 When someone sees your home they judge it first on the outward appearance, meaning "don't judge a book by its cover" does not translate over to home value. Your landscaping actually does matter for the overall value of your property. If you're looking to increase your home's overall property worth, here are a few updates you could make to your lawn.
1. Storage Space
One of the most important things to property owners is storage space. While it would be difficult to go through and add more closets throughout your home, it shouldn't be too hard to add a shed in the backyard. Even a small shed tucked away in the back corner can add significate storage space to your home.
2. Patio
Patios have become less of an amenity and more of a necessity. If you don't have at least a small patio on the back of your home, then that is something you should strongly consider adding very soon. Not only will it help increase your property value, but it will be something you can enjoy time and time again.
3. Covered Patio
Now that you have your patio, you might want to consider adding a cover. This is a feature that many people like because they can still be outside even when the weather isn't the best.
4. Fireplace
A fireplace in your backyard can range from a fancy stand-alone upright fireplace with a chimney to a nice brick fire pit. Almost everyone is happy to sit under the stars with a hot fire warming their face.
5. Plants
You don't necessarily need the Garden of Eden in your yard, but a few plants can go a long way. Trees along the perimeter will help to provide privacy for your yard.
If you have especially noisy neighbors than you might want to consider planting creeping vines at the base of your fence. Once the vines have grown to cover the fence they'll help to dampen the sounds of the outside world.
6. Outdoor Lighting
Putting lighting up outside makes it so you can enjoy the backyard even on those especially dark evenings. It will provide a nice environment for outdoor parties or BBQs and a safe space for the kids to get their wiggles out.
7. Perimeter Fence
If you would like your home to be good for children or pets you should consider putting up a perimeter fence. Not only will it help to keep kids and pets inside the yard but it will keep noisy neighbors out, allowing some privacy and safety for the backyard.
8. View
If you're lucky enough to have a home with a view then accentuate that point. Don't mask the beach on your beachfront property with trees. Make the best of what you have and try to draw attention to that attractive feature.
9. Year-round Yard
Try to think long term, and not only about the blossoming spring and summer seasons. Will your yard still look lovely in the middle of winter or will it look decrepit because of dead trees and brown plants? Try to make the best of every season your area has to offer.
10. Sanctuary
A nice feature that many people enjoy is a sanctuary of some sort. This could be a little fish pond or a gurgling fountain. Anything that helps to draw a person out of reality and into a peaceful space is a nice feature for your yard.
If any of these landscaping features sparked fresh ideas, then good luck with your yard renovations! It won't be long before your backyard turns into a space that people want to be in.