I am a fan of making my own cleaning products because I feel it's cheaper and cleaner for me to do so. I've also been doing it long enough that it doesn't take me long to make a batch of laundry detergent or whip up some homemade body scrub. However, I realize that not everyone out there feels the same way.
In fact a good friend of mine is a fan of green living but not a fan of the DIY portion of the program and she often asks me what products that she should buy that are safe, healthy or at least eco-friendly, so I decided to make up this list of 10 Green Products to Try If You Don't DIY. It's made up of products that I have used myself (Yes, sometimes I do actually buy products), or that friends have told me that they use. So if you're looking for a comprehensive list of green products to use to clean your home, this list* is for you: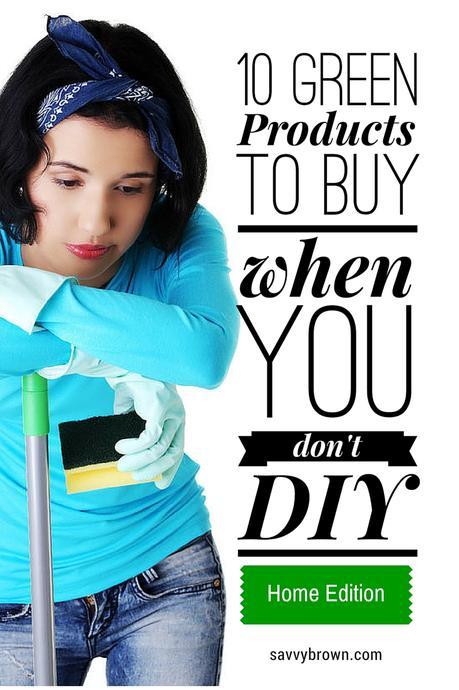 10 Green Products to Try When You Don't DIY: Home Edition
Laundry Detergent

– The Ecos line of products tend to not only perform well but are at a lower price point than most other green cleaners and can pretty much be found everywhere. I like ECOS Free N Clear Laundry Detergent
Dishwashing Soap – I am a fan of Method Dishwashing Soap

, mainly because of their

refills. You can save on the cost of subsequent purchases and you're being green by refilling the bottle.

Chlorine Free Bleach – Hydrogen Peroxide is the main ingredient in most green bleaching products, because of the damaging effects of chlorine bleach. Seventh Generation Chlorine Free Bleach is a good alternative. But I still recommend presoaking to get your whites really clean.)
Dishwasher Tabs – I am a big fan of dishwasher tabs and again I like Method Smarty Dish. I still recommend using vinegar as your rinse aid to wash away any residue. Check out my review of this product here.
Hardwood Floor Cleaner – I have used Bona Hardwood Floor Cleaner on my poly finish oak floors and I have a friend who uses it on her Pergo, it's just a good product for wood (and I've seen her let her infant son crawl all over it after she's cleaned it). It works well with a microfiber cloth mop like this one.
Linoleum Floor Cleaner – I will admit, I live in a 100-year-old Brooklyn brownstone so I don't have linoleum floors, but I have yet to see a bad review of Simple Green Naturals Floor Care (please comment below if you've used this product!)
All Purpose Heavy Cleaners – I REALLY like products that I can use for more than one purpose, and if they're green, that makes me even happier! One of my favorite cleaners I've used is Mrs. Meyers Green Day in Lemon Verbena. I've used it diluted to clean the tub shower and sink, and undiluted to clean the toilet. If you have REALLY grimy stuff, I would try Simple Green 11001 Cleaner Concentrate. (I read somewhere that some guy even uses this stuff to clean his car engine!)  Puracy Multi-Surface Cleaner is great on windows and non-porous countertops and all over the laundry room.
Granite Countertop Cleaner – Again Simple Green wins for this one as well. The Simple Green Stone Cleaner is nonabrasive and I like it on my dark granite kitchen countertops.
Furniture Polish – If you're not into spraying formaldehyde around your home, I suggest checking out Howard Wood Cleaner and Furniture Polish. Despite the name, you can use it several times a month, just dust between cleanings to avoid build up.

Carpet Cleaner – If you have carpet, then you are probably concerned with stains. Instead of using a cleaner with perfluorochemicals that could harm your child or pet try Biokleen Carpet and Rug Shampoo.
BONUS PRODUCT: I still think you can go wrong with Dr. Bronner's Peppermint Castille Soap! You can clean half your house with it, BUT there is a bit of DIY involved. For a list of the way you can use it, click here!
*There are affiliates links in this post (but I've used just about everything in here myself, I promise!)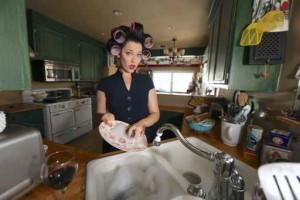 • DIY not your thing? What are some of your favorite green products to use around the house?