Sometimes, life does not prove out to be a smooth roller coaster ride as we thought it would be. We all have our share of ups and downs. Amidst the struggle to stand tall against all the odds and make our lives beautiful and large, we unapologetically ignore our physical as well as mental well-being. So, we must stop this and rather be very grateful for everything in our lives. Well, there are many things that are potent for our physical and mental health and out of them, flowers can be very significant in alleviating stress and unwanted anxiety. Order & buy flowers online and do something good for your health today.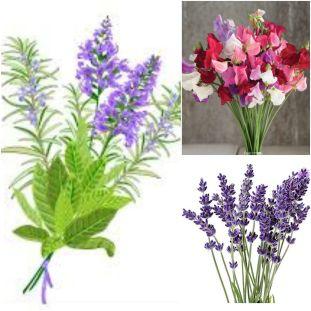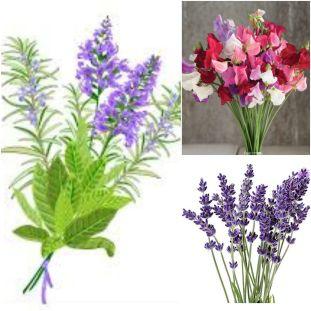 Since there is no way disagreeing on the fact that mother nature has been just so soothing and tender towards all the lives she bores. So are the elements of nature such as flowers that equally contribute to providing assistance for living beings. Let's get started with some must-know information regarding the universal benefits of some flowers and how can they fight stress and depression.
Sweet Pea
As claimed by the respondents, this gorgeous flower triggers all the sweet and good memories of our childhood. Naturally, leaving the state of mind in calm and peace. Sweet pea is widely known for generating an irresistible pleasant fragrance which then works magically wonderful on the human brain. Before I decided writing on this blog, I never knew that despite its aromatic smell, sweet pea could be of this much importance. So, this summer, look for online flower delivery and leverage all the benefits of this nature's gift.
Rosemary
Did you Know? Rosemary proves out to be very beneficial in improving one's memory. The term 'Rosemary' originated from a Latin word ' Rosmarinus' which signifies "mist of the sea" or "dew of the sea." This flower is a member of the mint family which is native to the Mediterranean region. This flower plays a vital role in improving the quality of air. Rosemary is also known for mitigating stress and removing stress.
Lavender
This flower belongs to the mint family and is primarily used as an essential oil. Not just known for producing attractive aroma but also it is highly effective in lowering anxiety and stress levels. Wait, there's more! This flower also regulates the sleep pattern, calms the irritated babies, and i t lowers heart rates.
Jasmine
Jasmine helps you in improving the quality of your sleep. Yes, that's true. Nowadays, due to overstressing and hectic life, you can miss your quality sleep. Sound sleep is required for the human body to function efficiently. Lack of sleep leads to indecisiveness in a person, reduces the problem-solving ability, and one can face problem in controlling the emotions. So, order & send flowers and leverage the benefits of these flowers today.
Red Roses
As per a report claimed in the Journal of Physiological Anthropology, just by looking at roses, people feel more comfortable and happy as compared to those who don't look at roses.
Peace Lily
This flower is a natural air purifier as it removes the extra moisture content from the air. It is to be noted that peace lily improves the quality of air by 60 percent. Air near this flower is comparatively very fresh, and you could feel the difference yourself. Thus, you can plant this flower indoor to keep your mind peaceful and happy.
Orchids
How many of you consider this flower as your favorite? It is one of those flowers which are best for gifting purpose. These flowers have been used by many to enhance the positivity in the home. Orchids can lighten up your mood by lowering the stress level. Also known for improving the quality of air by absorbing the carbon dioxide and releasing more oxygen in return. Isn't it such a cool flower? One of the great benefits of this flower is that it mitigates the seasonal ailments.
Geraniums
This beautiful flower also accounts for an irresistible fragrance, which helps in creating a pleasant environment. This flower can be planted indoors or even in the balcony at your home to enhance the beauty and positivity as well. Another significant feature of this flower is that it acts as an excellent anti-aging and antioxidant when used as an active ingredient in products.
English Ivy
This flower falls under the category of natural air purifier flowers. The highlighting feature about this flower is that it does not require much care and thus, is easy to handle. The aura of this flower is so strong that it is known for combating against allergies, releasing you from irritation. So, this flower is also one of those who helps in boosting your mood.
Gerbera Daisy
This flower is highly beneficial as it helps in removing the toxins from the air. It is renowned for removing benzene from the air. Planting one in the bedroom, laundry room, or in an office. Interestingly, the petals of these Gerberas flower can bloom up to two weeks.
The outlook for flowers that we have is that they are only beautiful flowers that enhance our garden's beauty even more, but they do carry some highly beneficial health benefits. From curing headaches to mitigate ailments, flowers can work magically on human beings.
Stop looking for midnight flower delivery when you have Winni is your one-stop solution. We provide delivery services 24 hours a day. Delhi is India's one of the developed and biggest cities in India. Delhi is the center of attraction for many tourists and even migrants. It is known for many iconic monuments like Gateway of India, Elephanta Caves, Haji Ali Dargah, etc. The city is also famous as the heart of the Bollywood film industry.