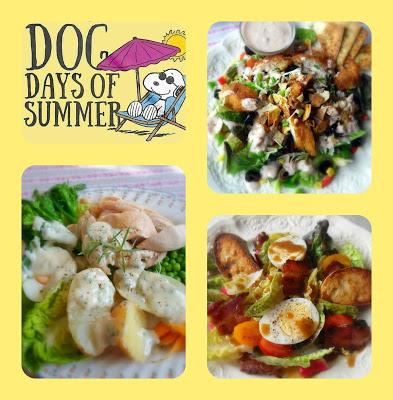 One thing I really love about the warmer months is the way our appetites seem to turn to the eating of salads and grilled food.  We crave light and fresh, and are only to happy to indulge ourselves in this type of food for as long as we can.  And small wonder this, as we are fortunate enough in this country to have some of the nicest local fresh ingredients available to us in the world.  Salad as a main course?  In the dog days of summer you just can't go wrong in serving up a delicious salad for supper!  Why not enjoy it outside on the patio. The cold wet weather will be upon us before we know it. Let us make hay while the sun shines! Here are my favourite Ten Main Dish Salad Picks for when the temperatures are rising and you just can't face cooking in a hot kitchen!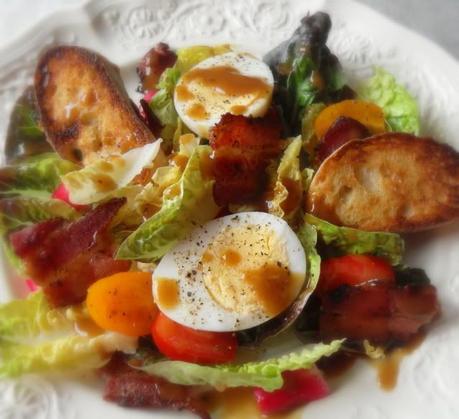 Why not make like the French and turn your home or patio into a French Bistro one night with a fabulous
Salade Composé.
These are my favourite kinds of salads because they are so easy to put together with a little bit of this and a little bit of that.  Hard boiled egg, crisp streaky bacon, sweet garden cherry tomatoes, fresh salad leaves (also from the garden if you are lucky), toasted garlic croutons and a tangy Sherry Dijon Vinaigrette Dressing complete the delicious picture!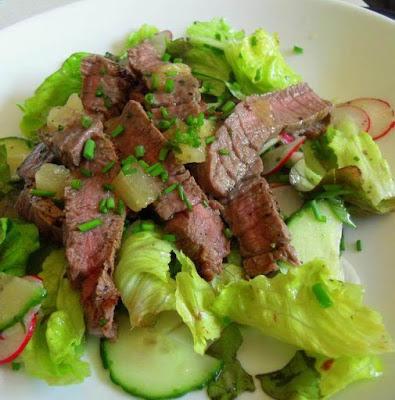 I love the tangy dressing on this
Grilled Thai Steak Salad
, with it's slight sweet and sour flavour, hot and spicy from the chilies and the sweet surprise of fresh pineapple. It has a distinct, but not unplatable bite and a wonderful tang from the use of lime.This is another main dish salad winner. You can either grill the steak to your preference on the BBQ (my favourite) or on top of the stove in a grill pan. Of course if you have an electric grill you can also use that!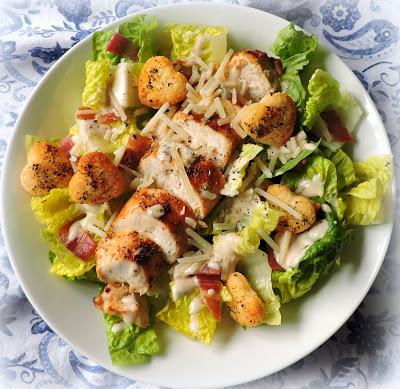 My all time favourite salad has to be the
Grilled Chicken Caesar Salad. 
Back home if we were eating out in the summer months I would always choose this over my normal fish and chips. Grilled chicken, seasoned with my own Montreal Chicken Seasoning, along with crisp Cos (romaine) lettuce leaves, Streaky bacon, Crisp garlic croutons, plenty of Parmesan Reggiano Cheese and a brilliantly flavourful Caesar dressing complete the picture for a nice light supper everyone will love!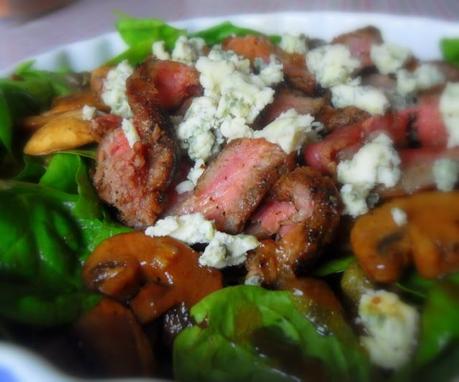 This fabulous
Steak, Mushroom and Blue Cheese Salad
is another supper time favourite of ours in the Summer months. I call this the holy trinity of steakdom! Steak, mushrooms and tangy blue cheese . . . the three combined in a simple salad which tastes anything
but
simple. It has a deliciously tangy and rich vinaigrette dressing . . . using sherry vinegar and honey.  You get the green rich and meaty crunch of fresh baby spinach leaves . . . the lovely flavour of the steak, the tang of capers and blue cheese . . . rich mushrooms and a lovely vinaigrette, which when combined together create a fabulous salad that I would be proud to even serve to company.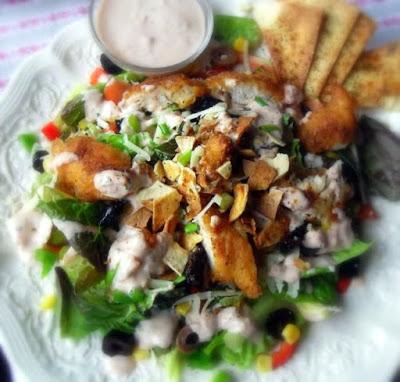 I adore Taco Salad, and especially this
Low Fat Chicken Taco Salad
!  The real star of this is  the dressing. It's cool and creamy and very low in fat, which is an extra bonus! I used no fat mayo and sour cream for mine and it turned out just wonderfully delicious with just a bit of heat. You can control that by using more or less of the Chipolte chili paste. (This gives it a nice smokey flavour too.) Of course if you would rather use ground beef instead of chicken you certainly could. I used battered chicken strips in this and homemade baked tortilla crisps. You won't miss any of the taste of the full fat version. This is perfect just as it is.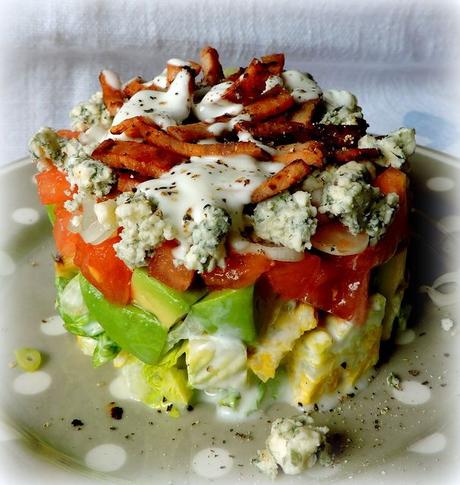 This
Layered Cobb Salad
is not only delicious but very pretty to look at as well.  It has all of the elements of the infamous Cobb Salad, stacked in a tasty tower . . . crisp iceberg lettuce, rich and indulgent creamy ripe avocado . . .  ripe sweet tomatoes, sharp spring onions  . . .  crisp and salty bacon and  rich and tangy blue cheese.  All with a deliciously creamy dressing!  Makes for a lovely  luncheon dish on its own or an amazing side dish when you are entertaining. Grilled steaks or chicken would go very well along side.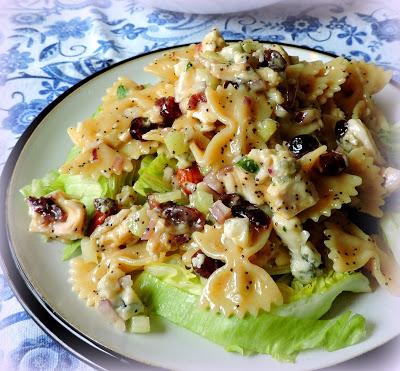 Turkey, Sour Cherry & Almond Pasta Salad
is what I call a really supper-time winner. The salad itself boasts the inclusion of cubed cooked turkey breast.  You could also use chicken if you don't have any turkey.  Dried sour cherries provide a bit of sweet tartness with the addition of sharp red onions, crunchy celery, salted almonds . . .  and creamy tangy Gorgonzola cheese.  Bow Tie Pasta and a tangy poppy seed vinaigrette complete the picture.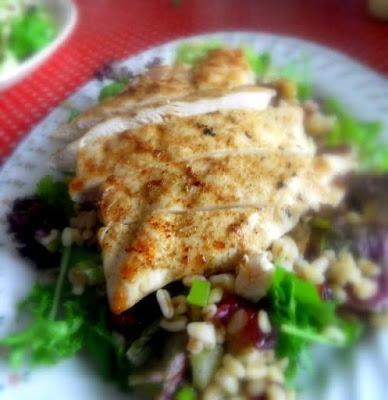 Grilled Chicken & Wheatberry Salad
. A colourful plate of salad greens is topped with a delicious wheatberry salad, chock full of crunch and sweetness. Crunchy toasted walnuts and chopped celery . . . sweet dried cranberries . . . sharp tasting spring onions, and a tangy lemon and olive oil dressing. This is topped again with a breast of chicken that has been rubbed with a delicious mixture of spices and grilled until perfectly cooked, and still juicy and tender. Nobody can complain about this!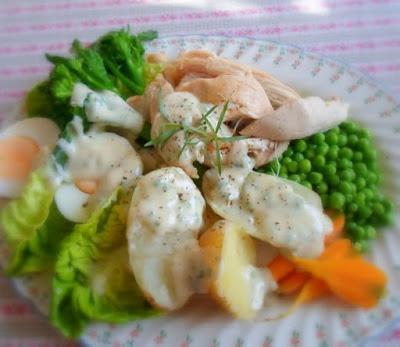 If you have a delicious dressing to hand, you can build a fabulously tasty supper salad out of just what you have in the refrigerator, picky bits left over from other meals.  This
Tarragon, Chervil & Chive Dressing
is quite simply wonderful. Creamy and delicious and filled with beautiful flavours.  Here I have served it with some baby gem lettuce leaves, boiled egg, sliced cooked chicken, tenderstem broccoli,cooked baby carrots, boiled new potatoes and English Peas. Fabulously Tasty!  What's in your refrigerator that you can simply throw together to make a fabulously tasty salad collation?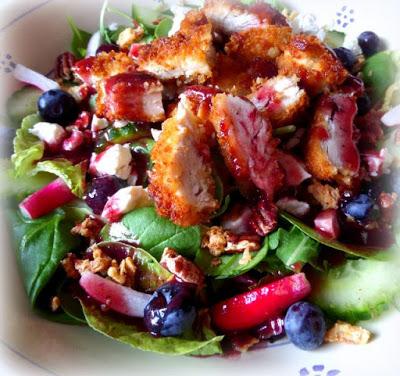 Crispy Chicken Salad with a Blueberry Vinaigrette
. 
This is a delicious salad with crisp fresh salad greens . . .  I used baby rocket (arugula), baby gems and baby spinach . . .  crisp French radishes, fresh cucumbers from the garden,  crispy salad onions, toasted pecans, and crumbled feta cheese . . .  and yes, fresh sweet blueberries that are coming into season now! 
You top all of that with some sliced crispy chicken.   I have created a delicious blueberry dressing to drizzle over top of it all. Seriously yum yum!  
So there you have it!  My tasty top ten picks.  There is sure to be a bit of something here for everyone on your list!  Get ready to chill out and dig in!