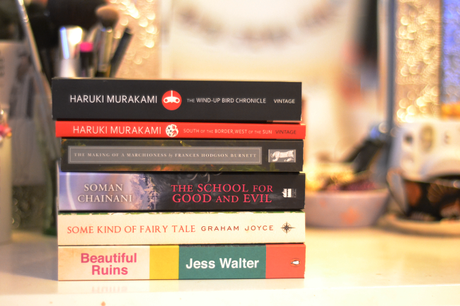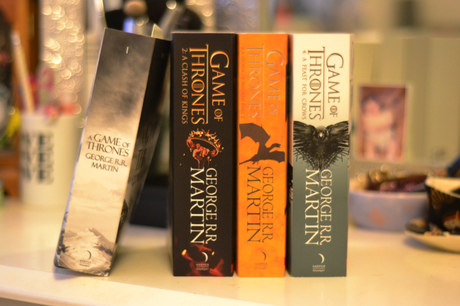 An over indulgent book haul and my summer reading list.
Have I mentioned my book habit on the blog before? I'm trying to remember, but I'd hazard a guess that I haven't really explored books and all that at DB.
Having said that, this year I've been investing plenty of time and money into refreshing my book habit and getting back into reading for the sake of, well, reading. I realised that while books and fiction are a huge interest of mine, I rarely read anything other than a blog or Buzzfeed list and quickly set about book hauling.
Here's my summer to-read list:
The A Song of Ice and Fire Series by George RR. Martin
Oh yes, I caved. Nudged in the right direction by my good friend
Sarah
and some of my colleagues at work, I settled down about three weeks ago with the TV series and finished the first three seasons within a fortnight. Social lives, who needs 'em?! I then raced out to pick up the books (so far) and am currently a quarter way through ASOIAF.
As a sidenote, I'm of those annoying book girls that must read the books before beginning a series or film. But for the first time ever, if you're considering getting into A Game of Thrones I'd possibly recommend watching the TV series before reading the books. Just my two cents!
The Wind-Up Bird Chronicle by Haruki Murakami
Murakami is one of my favorite contemporary authors. Following my obsession with 1Q84, Norwegian Wood and Hard Boiled Wonderland, I browsed a couple of his other titles and knew I needed this in my collection. I love the way his writing seamlessly brings harsh realities together with mesmerising surreality, and can't wait to get my teeth sunk into this!
Blurb: Toru Okada's cat has disappeared.
His wife is growing more distant every day.
Then there are the increasingly explicit telephone calls he has recently been receiving.
As this compelling story unfolds, the tidy suburban realities of Okada's vague and blameless life, spent cooking, reading, listening to jazz and opera and drinking beer at the kitchen table, are turned inside out, and he embarks on a bizarre journey, guided (however obscurely) by a succession of characters, each with a tale to tell.
South of the Border, West of the Sun by Haruki Murakami
Another Murakami number, this is supposedly more love and romance oriented than his other tomes. I think what draws me to Murakami's novels the most is the focus on post-war Japan, just a smidge of history teamed with plenty of dreamy writing and harsh truths. Just lovely! I think I'm going to read this right after ASOIAF if not alongside it.
Blurb: Growing up in the suburbs in post-war Japan, it seemed to Hajime that everyone but him had brothers and sisters. His sole companion was Shimamoto, also an only child. Together they spent long afternoons listening to his father's record collection. But when his family moved away, the two lost touch.
Now Hajime is in his thirties. After a decade of drifting he has found happiness with his loving wife and two daughters, and success running a jazz bar. Then Shimamoto reappears. She is beautiful, intense, enveloped in mystery.
Hajime is catapulted into the past, putting at risk all he has in the present.
The Making of a Marchioness by Frances Hodgson Burnett
I'm a sucker for an English classic and love to crack one out once in a while. This is hailed as Hodgson Burnett's best work and is apparently often overlooked in favour of The Secret Garden, another favorite. It deals with post-Victorian marriage and I hear it has hints of Cinderella and is wildly romantic.
The School for Good and Evil by Soman Chainani
Very much a YA piece, this deals with two best friends - a witch girl and a princess - who are taken to the much-feared School for Good and Evil. I must admit I didn't research into this one at all, I was just hoping for a simple, fantasy inspired read for the summer!
Some Kind of Fairy Tale by Graham Joyce
Did anyone else have an INSANE obsession with the film
Fairytale
when they were younger? I used to spend every Saturday and Sunday afternoon looking for fairies at the bottom of my garden and by the pond. Anyway! I spotted this on a blog a few months ago and instantly needed it. Heralded as a very English story that is full of enchantments of the everyday, I'm SO excited to read this and rekindle my fairy obsession. Aged 23…
Beautiful Ruins by Jess Walter
I can tell you the exact moment that I decided to buy this book: moseying around in the basement of Selfridges waiting for one of the girls to finish work. I'll put my hands up and admit that I pretty much picked it up for the cover, but the 1962 setting drew me in and then the fact that the novel fasts forward to today, when an elderly man begins searching for a woman he last saw 50 years ago. I LOVE these kinds of tales.
What are you hoping to read this summer? Leave me even more suggestions below!