White Space Design For Your Blog To Stand Out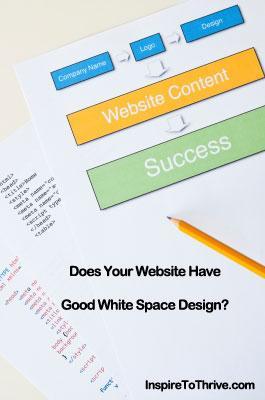 Do you feel more at home when you visit a blog or website that has plenty of white space design? White space is also known as negative space. It makes it easier on your eyes when scanning a page whether in print or online.
Many advertisers try to cram a lot of info into their advertisements both in print and online thinking they want to use every inch to spend their money wisely. In reality they are not!  Over the 20+ years I've spent working in marketing and advertising I've seen this over and over again. Can you add this to our ad? Can you put in one more sentence without increasing the size of the ad?
White space is an investment for advertisers and content publishers as readers will likely spend more time reading their content either online or in print. It makes it so much easier to readers to see the copy clearly.
I find myself more at home reading blogs with white space and spending more time on them. If I land on one that is overly cluttered I will not stay. That would include several pop-ups as well. It is too confusing to try to read! Have you ever had that happen to you?
10 Blogs with Great White Space Design
Dukeo – Stephen at Dukeo is back and I loved his new design. It's fresh and easy to read with plenty of white space.
Basic Blog Tips – Ms. Ileane has changed her look as well at her blog. She used to have more things crowded on the sidebars and her posts now have a shorter width. This makes her posts more pleasing on the eyes.
Hot Blog Tips – I hadn't visited Brian's blog in a while and was surprised to see how different it looked – and it too was neater and easier to read with the use of white space.
Shade of Info via Andrew Warner – This blog has a nice fresh white space look and feel to it. I also love the look of the typeface and size of the typeface. Sure makes it easy to read!
Byte of Data – I came by this blog in researching blogs with white space. This blog is extremely clean especially in the header and the blue color stands out against the white.
Blogn with Meghan – I found this new blog by Meghan via using Just Retweet. I landed on a very clean looking blog that I had to include this one on my list here of blogs with clean white space design.
Barbara Charles – Barbara Charles had updated her blog a few months ago and it's so refreshing to land there and experience all the white space design and crisp typeface. It makes it so much easier and enjoyable to read.
Flying the Nest – I found this travel blog via Bloglovin. It has beautiful white space along with large photos. This blog is by an Australian couple who travel the world.
Just Like  A Fine Wine – Brenda has come up with more white space in her latest theme and a blog that has a multi niche category. That is not an easy task with a multi niche blog category. Those blogs tend to have the least amount of white space.
Living on the Fault Lines – I discovered this blog via Irish Carters blog. Not only did I discover the white space design but an important blog to help others who have experienced the loss of loved ones through suicide.
What Other Designs Makes Blogs Look Pleasing to the Eyes?
Websites Color – The colors that are used on a website can make a difference in how a blog or website looks. The colors can even determine how much money it will make!  Ever wonder why Victoria Secrets is in Pink? Ladies purchase more when they see pink.
Websites Font – The font size can truly make a difference in how longer a reader will stick around. Older readers really need a larger font size  as well as an easy to read style front. Verdana, Trebuchet MS and the serif font Georgia are considered easy to read on computer screens.
Are you using white space design on your blog or do you crowd your sidebars and footers with ads and other materials?
Is it a big turn off for you if you visit a crowded website or blog?  I"d love to know via comments!
Top Image courtesy of tiramisustudio at FreeDigitalPhotos.net

Lisa
Lisa loves helping others to thrive online through Social Media, Blogging and SEO. What good is knowledge if you cannot share it with others?
She has 20+ years experience in marketing/advertising with 4 years experience blogging, social media and SEO. Get her new eBook Tweeting Like It's 2nd Nature Today!

Latest posts by Lisa
(see all)
10 Blogs with Great White Space Design Today

- April 10, 2015

Get Mobile Ready with Responsive Design for SEO

- March 30, 2015

Google Plus Social Network or SEO Advantage?

- February 28, 2015