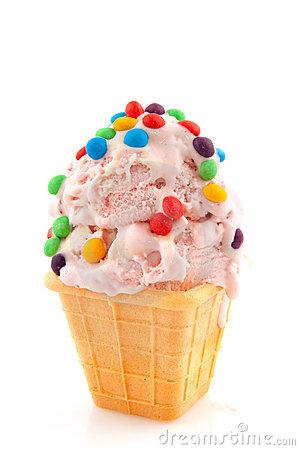 Whether cooling down on a hot summer day or kicking it back in comfort with a pal, ice cream can be a sweet taste of nostalgia. But who says you can't take your pint-sized happiness to new and exciting places? With a stand-mixer (or wooden spoon and elbow grease) you can create these ten delicious flavors using the ultimate beloved snack foods.
PB + J
Peanut Butter Cups + Strawberry Preserves + Vanilla Ice Cream
Shake up your average vanilla ice cream with a touch of this classic school lunch sandwich. Simply crush up your candy, mix in with the vanilla ice cream, and add a few spoonfuls of strawberry preserve.
Aloha Almond Joy!
Almond Joy + Toasted Slivered Almonds + Coconut Ice Cream
Close your eyes and imagine coconut trees as you enjoy this creative delight. Place a small amount of slivered almonds in a heavy ungreased skillet and stir until they are golden brown. Mix in with chunks of almond joy and coconut ice cream!
Sweet and Salty
M+M's + Pretzel Chunks + Vanilla Ice Cream
Who says you have to decide between a salty or sweet snack? Crush a handful of pretzels and mix them with a small bag of M+M's and some vanilla ice cream.
Twixted
Crushed Twix Bar + Caramel Syrup + Chocolate Ice Cream
What's crunchy, chocolately, with caramel all over? A dish of this sublime treat, that's what! Cut up your Twix bar and add to a delicious selection of chocolate ice cream. Don't forget to top with caramel!
S'mored
Hershey Bar Bits + Mini Marshmallows + Graham Cracker+ Vanilla Ice
Cream
Crush up a classic Hershey Bar and mix it in with mini marshmallows and graham crackers for a cool alternative to this great outdoor culinary experience.
Pop Rocking
Pop Rocks + Swirled Sherbet
If you want to try something with a snap, mix in Pop Rocks with a swirled brand of sherbet. It's colorful, tasty, and will leave a party in your mouth.
Classically Malted
Crushed Malted Milk Balls + Chocolate Ice Cream
Simply delicious: this flavor capitalizes on the mantra that less is more. Put your malted milk balls in a bag and roll over them with a rolling pin for a double shot of chocolate decadence.
Peanut Lover's Payday
Bits of Payday + Extra Peanuts + Vanilla Ice Cream
It's okay to be a little nutty! (At least when it comes to ice cream!). Just make sure to leave some room for the vanilla ice cream!
Gummy's Grand Adventure
Don't let your strawberry ice cream stand alone! Mix in the right amount of sprinkles and gummy bears for a flavor that makes you feel young again.
Cool and refreshing, there is very little not to like when it comes to a York Peppermint Patty crushed up in a little bit of refreshing mint ice cream.