There are millions of apps on Google's Play Store and Apple's app store. If you are looking for some best calendar apps then it might be a bit confusing because you will see thousands of similar apps that will claim to provide similar features. In case, you are looking for the best calendar app for Android or best calendar app for iPhone then this article is definitely for you. In this article, we will try to help you in finding the best calendar apps that will help you in making your days and life easy.
But before we list down the calendar apps that will make your life easy, we need to learn why we need these calendar apps and what are the benefits of these apps. There are basically several benefits of using a calendar app, it does not only keep you ready for the upcoming events but it also helps you in planning your entire days. You can use offline printed calendars to check dates but you won't receive the same features as the apps provide you. Some of the important features of using a calendar app are mentioned below:
Features Of Calendar Apps
With calendar apps, you can schedule your meetings very easily. Suppose, you have a lot of work to do and at the same time, you need to set an appointment for a day in the next week. You can easily do that with the help of the calendar app.
I am not good with dates and I always used to forget the birthdays of my friends and family members but with the use of calendar apps, things have changed completely in recent years. I set the reminders on my phone with the help calendar apps so that I do not forget or miss any important date.
You can use calendar apps to increase your productivity level. Suppose, you are working on a project that needs to be finished in 2 days but if you try, you can easily finish that project in a day. So, you can set a deadline for that project as a day and get another day to do something else.
There are several benefits of calendar apps apart from the ones I have mentioned. You can use these calendar apps on your android and iOS devices. Our list consists of the best calendar app of iPhone and Android. So, It does not matter which device you are using, you will love using these apps.
Also Read : To-Do List Apps / Android OS PC / Bill Reminder Apps
Top 10 Best Calendar Apps For iPhone & Android
1. Any.do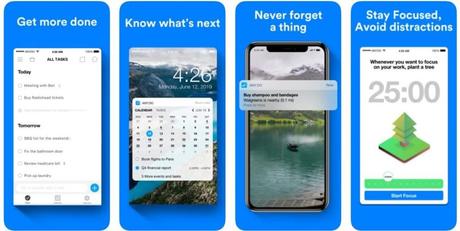 Any.do is an excellent app that is used by more than ten million people on android platform. It is among the best calendar apps for iPhone because of its awesome and easy-to-use features. Any.do has been rated 4.5 out of 5 on play store and this number clearly shows how good this calendar app is. The size of Any.do is around 17MB, you won't face any problem while running it on low-end android phones.
Previously, Any.do had a different app for calendar which was called Cal but developers have tried to include all the features of Cal app into the best to-do app Any.do and surprisingly, Developers at Any.do have been successful in creating a masterpiece. Any.do app comes with a beautiful interface that can be used by anyone.
Any.do gives you a lot of awesome and excellent features that can make your life more organized. If you want location-based reminders, notifications before your scheduled meetings then Any.do is a recommended app for you. You must use Any.do app if you want to make the most out of your days. Any.do is a mix of to-do and calendar app, you will get double features with this app.
2. iCalendar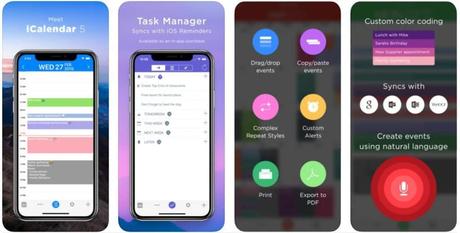 iCalendar is not available for Android devices. iCalendar is one of the widely used calendar apps on apple devices. If I declare that Apple Calendar is the best calendar app for iPhone then I won't be incorrect. You can use the iCalendar app on iPhone, iPad, Mac, and Web. You can use iCalendar to import the data from other similar calendar apps(Google Calendar). iCalendar with a very simple design and you will be able to use it easily.
iCalendar app's interface is very unique. This app comes with (+) plus sign at the home page. if you click on that icon, you will be able to add new event easily. A new event can contain a reminder, note, location, and similar things. If you have an apple and you really want to put your life to good use then you will need the iCalendar app.
3. Cozi Family Organizer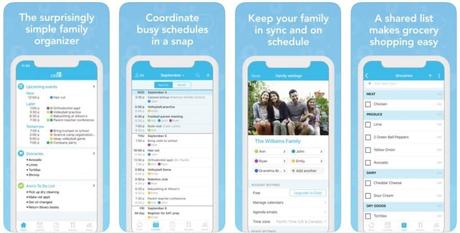 Cozi family organizer is our third app in the list of best calendar apps. It does not matter which device or platform you use because Cozi family organizer is an app that is available for iOS, Android and, Windows. Cozi family organizer is very popular on Android devices and it has been rated 4.4 out of 5. The app is developed by Cozi inc and it comes in a size of only 13MB. Cozi family organizer runs smoothly on phones with low RAMs.
Cozi family organizer is a family organizer app that can be used by several people simultaneously. You can view all the events of your family members who are using the Cozi family organizer app. If you want to invite all of your family members for a party then you can add an event that will be available to all the members to view. In short, the Cozi family organizer app is the modernized version of our traditional calendar where we used to have only one calendar.
4. Fantastical 2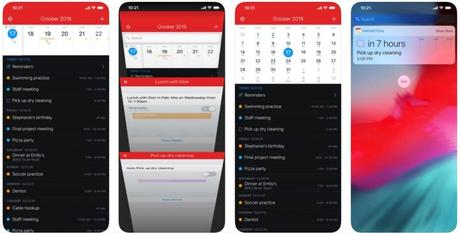 Fantastical 2 is a perfect tool for iOS and macOS. You will get all the features in Fantastical 2 that you want in a calendar app. One of the best thing about the Fantastical 2 app is that you will get it on mobile and desktop. Both versions of the Fantastical 2 calendar app are very nice and you will love to use Fantastical 2 best calendar app for iPhone. If you do not want Apple calendar then you should go for this.
Fantastical 2 comes with a very simple yet unique design that will not bore you. It is very easy to add reminders, notes in Fantastical 2 and you will be able to add other events too with the same ease. With Fantastical 2, you will get a menu bar that will let you add events and notes quickly. If you are looking for a simple yet effective app then Fantastical 2 is for you. The only major drawback of Fantastical 2 is that you will have to pay a lot to use this app and Users might not like paying for Fantastical 2 app.
5. Google Calendar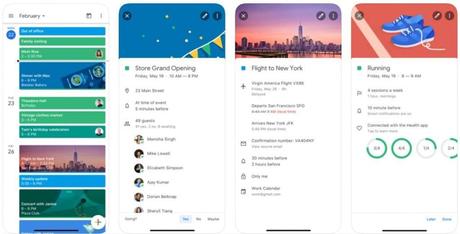 Google Calendar is our fifth app in the list of best calendar apps. It brings the technology and reliability of google with the app. This app is available for use on android, iOS and, web. You can unite this app with different similar apps that provide the same features.
It has received more than a billion installs on the play store and these numbers are enough to tell about the app. If you are looking for a simple calendar app that will help you in using your day to the fullest by keeping notes and reminders then Google Calendar is your answer. Unlike other apps, Google Calendar comes for free.
6. Microsoft Outlook Calendar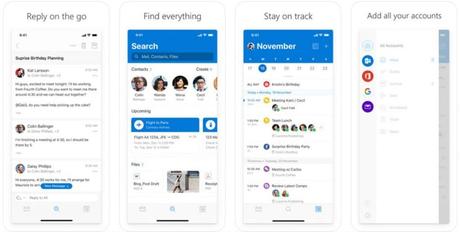 Microsoft Outlook Calendar is available on all major operating systems. Your email and calendar are brought under the same page with Microsoft Outlook Calendar app. You can do a lot more than just scheduling appointments with Microsoft Outlook Calendar app. Microsoft Outlook Calendar app comes with a very beautiful user-interface and design.
You can share calendars with the help of Microsoft Outlook Calendar to your teammates and family members. There are several other features in Microsoft Outlook Calendar app that you will see while using the app.
Download Microsoft Outlook Calendar
7. My Study Life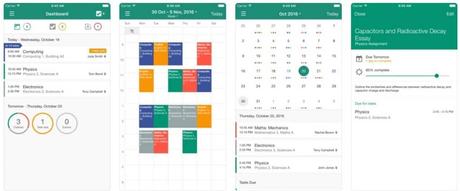 My Study Life is created for all the students that want to utilize their time to the fullest. Student's life is very complicated because you have to attend classes on an alternate basis, do your work on time. Similarly, there are several other tasks that you need to do if you are a student. If you do not organize your time correctly then it will become too tough for you to manage your studies.
My Study Life is made for all the students who want to plan their study time according to their needs. This app is available for android and iPhone devices. My Study Life is one of the best calendar apps for students.
8. Thunderbird Calendar
Thunderbird Calendar is without any doubt one of the best calendar apps for Linux, Windows, and macOS. This calendar app has all the basic features that a calendar app should have. Thunderbird Calendar app is nicely designed software that can be used by anyone. If you are new to the calendar apps then you don't need to worry because using Thunderbird Calendar is very simple because of its simple interface.
9. Timepage by Moleskine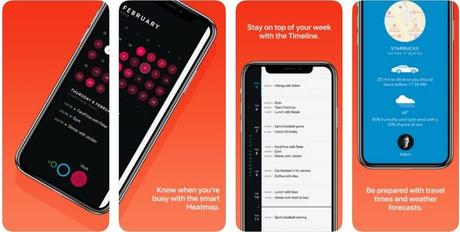 Timepage by Moleskine without any doubt is one of the best calendar apps for iPhone. If you are looking for a paid iOS app that will help you schedule your appointments, reminders then Timepage by Moleskine is for you. Timepage is a very beautiful app that lets you select the color of the calendar. Timepage comes with alerts for rains. The only drawback of Timepage by Moleskine is that it does not offer compatibility with Apple's watch.
10. TimeTree

TimeTree is our last mention in the list of best calendar apps. This App has more than 15 million users on all platforms. If you are a new user at TimeTree then you will be asked if you want to use the app for personal or with family, friends or team. Later, TimeTree will help you in customizing the app according to your choices and you will be able to use this calendar app as per your need. TimeTree is a nicely designed app and we can say that it is the best free calendar app.
Final words
It was our list of best calendar apps for iPhone and best calendar apps for Android. I hope you liked our post and you use these apps to get the most out of your day. No matter which app you use but just make sure that you do not waste your precious time on unnecessary things.