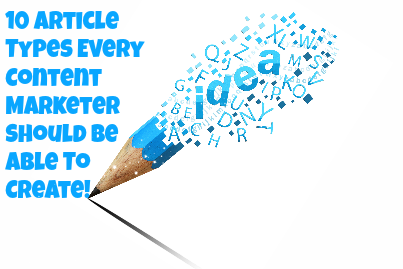 Quick.  What do you do when you need blog content now, and you're not sure where to start? 
I know – I opened with this scenario in a recent post and determined that I'm the only one who ever has that happen, right?  
But spare my feelings a bit, would you?  Play along with me, pretend you sometimes need an article quickly, and for whatever reason, you don't have as much time to write it as you might like. 
(I'm writing this via Dragon Dictation – I've had an interesting week with a spider bite on my hand that landed me in the ER twice, and it's still presenting a challenge when it comes to typing.  So while my intentions for spending a good amount of time on my content have been there, it's somewhat comical, to say the least, as I try to make this darn finger that looks like a sausage hit the right letters on the keyboard).  So – it's a bit later than I'd like in terms of putting together the best content possible, and for that, I apologize!)
So all that said – sometimes it just so happens that you need some inspiration and expediting when it comes to keeping up with providing fresh content for your readers. 
Article Templates – Why Are they So Useful?
One of the best tools in a content marketer's arsenal is the template.  And if one is good, many are better, right?  When it comes to being able to create quality content quickly, sometimes a template is just the framework you need to come up with an idea, put it in a logical order, and fill in the needed details to provide the most useful information for your readers. 
There are a number of different kinds of templates that you can use to approach a topic. And while I've mentioned that one great use of templates is to help you create useful content quickly, it just so happens that templates can also help you address a topic from a number of different angles, so as to help you be as thorough as possible when it comes to helping your readers. 
I'm going to list out some of the different kinds of templates you can use – but I'm also going to give you an example of how to use these to cover one overriding topic. 
So for the sake of this example, let's imagine we want to create a series of articles on Google Plus.  
10 Article Types Every Content Marketer Should Be Able to Create
1.How-To Articles   
Example:  How to Use Google Plus to Boost Your Influence Online
2.Advantages and Disadvantages Articles
Example:  The Advantages and Disadvantages of Using Google Plus as Your Primary Social Platform
3.Avoiding Problems Articles
Example:  How to Avoid Ruining Your SEO With Google Plus
4.Question and Answer Articles
Example:  Your Questions Answered:  Google Plus Simplified
5.Top 10 Tips Articles
Example:  Top  10 Tips for Boosting Your SEO from Google Plus Hangouts
6.What I Love Articles
Example:  What I Love About Google Plus Communities
7.What I've Learned Articles
Example:  What I've Learned about Hosting Google Hangouts
8.How to Avoid Dangers Articles
Example:  How to Avoid Having your Google Plus Profile Hacked
9.Main Principles of _____ Articles
Example:  Main Principles of Google Plus: What Makes Google Plus So Different?
10.Checklist Articles
Example:  Setting Up Your Google Authorship:  A Step-by-Step Approach
What's great about having article templates at your disposal is that virtually any topic can be written about using virtually any template type.  It's a beautiful thing, really! 
Which template type is your favorite? Which would you like to see an actual template for?  Leave a comment – we love to hear from you!