Over the past few years I have developed an intense passion for fashion. I love to read about designers and their inspirations, see the reasoning and progression of a collection as it goes down the runway, understand why clothing is considered "editorial" as opposed to more "commercial"- everything! I have never studied fashion in school, but I read magazines and blogs like textbooks, soaking everything up and applying it to the fashion that is in my world everyday.
That being said, I get so upset hearing people complaining about shopping. Shopping should ALWAYS be fun, not stressful, frustrating or expensive. Don't worry too much about what is the trendiest item in the room but instead seek out the pieces you actually want to wear! Don't be frustrated by your body type and remember that no one sees the tag so just buy what fits! And most importantly, just because it isn't in your budget to buy designer clothing (trust me, it isn't in mine either!) doesn't mean you can't get an expensive look that mimics the same style vibe as those we see in high-fashion magazines.
On top of those shopping "rules to remember" you should also keep in mind two very important things:  1) what do I already have and 2) what do I want to get to enhance those pieces I already own? For example, I bought a faux fur vest last year and am ecstatic to see that they are even more popular this fall than they were last fall season. So even when I am shopping and see an array of gorgeous faux fur vests, I have to remember I already have one and all it needs for a fresh new look is a brightly colored sheer button up to give it that 70's glam look that was on the Gucci runway!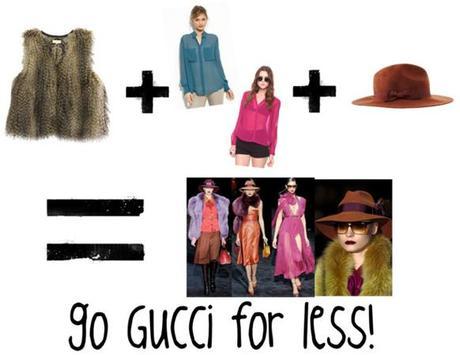 A vest I already own, a jewel tone sheer top, wide brim hat and I have a high-end look for less!
In the October issue of Marie Claire, I read an article that was all how to style an investment piece different ways to get the most bang for your buck. I loved the article and I think you can apply styling tips like these even to pieces that don't cost you a fortune. Especially when it comes to accessories and jewelry, there are so many different ways you can put separate pieces together to give them a whole new look each and every time you wear them! Let's take a look at some of our fall fashion must have's when it comes to getting all of the hottest runway looks!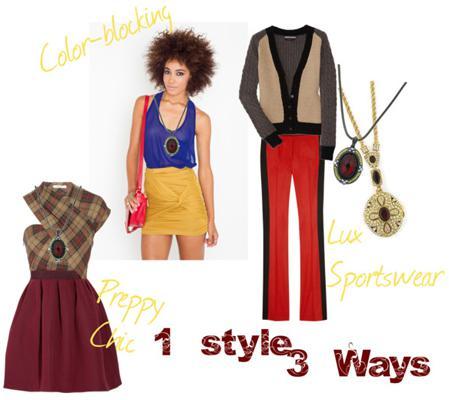 #1-
Cabernet Sparkle Oval Red Pendant Necklace
:
One thing you must get yourself this season is something red! It is a bold, daring color that comes in so many different shades and makes a chic accent color. We love our new Cabernet Sparkle Oval Pendant because of the sophisticated color palette it creates with metallic bronze accents around the deep red stone. And because of this modern combination of colors it makes this necklace incredibly versatile. A simple pendant can be worn with a longer pendant necklace for  a dual necklace style and looks especially good against classic sportswear in bold, color-blocking styles. Or take on one of fall's hottest looks and thrown on this necklace with a preppy plaid and you'll be set!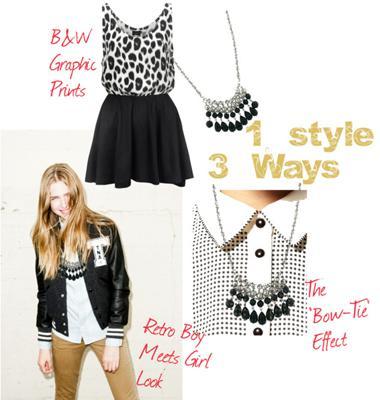 #2- Tribal Inspired Black Beaded Bib Necklace:
I personally love this necklace because of all of the different ways it can be styled! You may remember from a previous post of mine that I've rocked this necklace under the collar of a white blouse for a bow-tie effect. And since black and white is getting it's moment in the fashion spotlight this season as well, we think this is the perfect necklace to wear with any of those "classic with a twist" looks. Take a black and white graphic pattern and add even more texture or go simple with black and white separates. It will give you that bow-tie effect and still retains a feminine, flirty edge!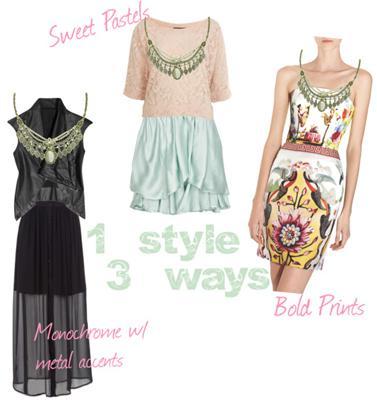 #3-
Brass Chain Mother of Pearl Pendant Necklace
:
This last piece I've chosen as a 1928 "must-have" can go so many different ways! It is a statement necklace without being too bold or chunky and has a genuine mother of pearl pendant that elevates even the most casual of clothes to a sophisticated look. Singer and celebrity Leona Lewis showed us some 70′s glam when she wore this necklace and we love the look she went for! We also think its a sweet addition to any kind of pastel retro ensemble you might throw together and it looks great with floral prints! But for this necklace to really stand out on its own, try it with a monochrome layered outfit that needs an edgy additional of metal hardware accents. The brass charms and iridescent shine of the mother of pearl pendant will truly stand out, especially against a color like black!
So next time you're shopping, apply these simple rules and have fun with it! Think back to your closet and think of how many different ways you'll be able to wear something so you can worry about wearing it too much rather than the price tag. What are some of your shopping rules? What kinds of clothing or jewelry pieces will you be buying this season to accentuate what you already own? Take your closet and make it new again. Happy shopping!!!