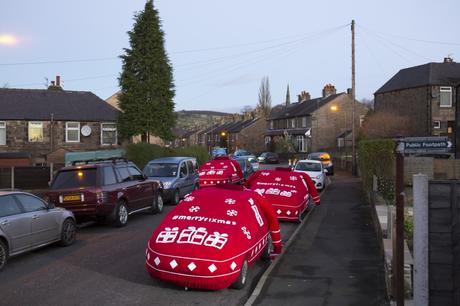 Transport nightmares are annoying at any time of year, but at Christmas, with our heightened sense of expectation, they can seem disproportionately stressful especially as nearly one million car breakdowns are forecast over the festive period according to research by Direct Line.
Some 8 per cent of people have experienced their car breaking down over the festive season in the UK. Last year, over Christmas 30,260 customers got in touch with Direct Line that their cars wouldn't start. Of those, 7,541 people needed a tyre changing while 6,437 customers had a flat battery and 2,496 had problems with their engine. The weather led to almost 2,000 calls on Boxing Day and almost 3,000 calls on 27th December to Direct Line alone.
This is why the #merryfixmas team at Direct Line surprised neighbours living in New Mills, Derbyshire, by delivering Christmas woolly jumpers for their cars to highlight top tips to prevent cars from breaking down.
Gus Park, director of motor at Direct Line, said; "We know that car trouble is the last thing that families want, especially when we'd all rather be focusing on the festivities. Don't let the recent mild weather catch you out though, as the nights can still get quite cold. Lower temperatures at night can be commonly attributed to cars not starting due to battery faults, hopefully these Christmas car jumpers are a fun 'fix' that will keep these families on the move."
The Christmas car jumper 'fix' follows a national Direct Line survey which identified "the weather ruining Christmas plans" as one of the 12 Dismays of Christmas - the top seasonal stresses identified by the public.
Prepare your car
Ideally, make sure your car has been serviced recently. Even if you're not going for a professional check, do test your lights are working, tyres are in good condition and brakes are working. While you're at it, make sure your windscreen wipers are ready for action - and, crucially, top up with anti-freeze to defrost your windscreen.
Prepare for fog
Visibility is crucial, so if you're struggling to see further than the length of a football pitch - around 100m - then get your (dipped) headlights on. Drive slowly, and if conditions get worse then use fog lights. If you feel like you're driving blind, use your other senses: wind down your window at a busy junction and you will hear cars approaching.
Prepare for breakdowns
Even with the best preparation, accidents do happen. So minimise the pain by keeping warm, woolly blankets in your car boot to keep you warm. If there is snow on the roads, add a shovel. A piece of cardboard or carpet, or a bag of sand, will give you traction if your wheels are spinning with slush.
If you're on the motorway, pull over onto the hard shoulder and get out of the car. If you're not on the motorway, stay in the car and run the engine for 15 minutes each hour. Do not listen to the radio or leave lights on, as these drain the battery.
The Christmas jumpers coincide with #merryfixmas from Direct Line where teams have been travelling around the country throughout December fixing all manner of seasonal stresses; from untangling tree lights and helping people with wonky pines to offering gift inspiration.