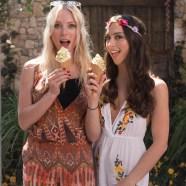 Tags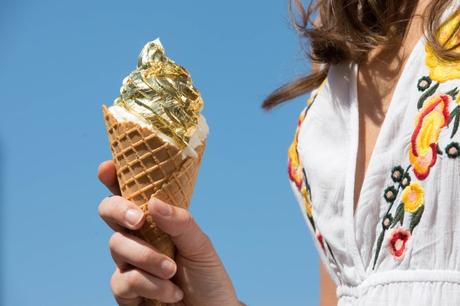 ● Food Fest's 'Golden Hour' offers free giveaway of edible 23 carat gold covered soft scoop on 21st and 22nd July, 2-3pm
Just Eat will offer edible 23-carat gold wrapped ice cream to attendees at Food Fest: Fantasy Fusions this weekend (21-22 July) for free. To celebrate Brits curiosity for wild and wacky foods from afar, foodie lovers will be able to enjoy Japan's trendiest ice-cream whilst soaking up the feel-good summer vibes in the heart of London.
The Food Fest 'Golden Hour', taking place between 2pm - 3pm, has been introduced this year in honour of the food festival's theme which celebrates our favourite takeaway dishes - with a fantastical twist. Just Eat, alongside restaurant partner and vendor Flavours Gelato in Bermondsey, will be giving away 200 gold leaf ice creams throughout the weekend.
The Insta-worthy food craze for gold leaf ice cream started thousands of miles away in Japan's city Kanazawa, and has since become the hottest food trend in the country. Just Eat will be serving two flavours of ice cream which are popular in Japan, Matcha Green Tea and , each wrapped in a delicate layer of edible 23 carat gold leaf. Coconut
If the regal cones are a hit, Just Eat may look to work with other restaurant partners across the UK to roll the dessert out nationally.
Now in its third year, Food Fest has become one of the hottest dates on the calendar and has attracted a long list of celebrity guests including Nicole Scherzinger, Marvin & Rochelle Humes, Pixie Lott and Ella Eyre.
The event takes place in Shoreditch, London on 20th - 22nd July 2018 and the line-up of restaurants includes British Takeaway Awards winner , who will serve Spiced Pumpkin Latte pizza, For those with a sweet tooth, in Beckenham and Joe & Za' serving Onion Bhaji buns, and Indigo Indian Street Food, , the original fried chicken & waffles joint, serving southern fried chicken on sweet waffles with a honey butter topping. Bird are just some of the other unique dessert dishes that are going to be on offer. All of the food will be provided by restaurants available to order on Just Eat. Chocolate Rainbow Waffles from Peanut butter & Jelly Ice cream from