Darian Unger is falsely claiming endorsements for this year's race.
In this example, Unger has not tried to hide the date of the WaPo article, but he has pinned it to the top of his Twitter feed, clearly assuming most people won't notice the date.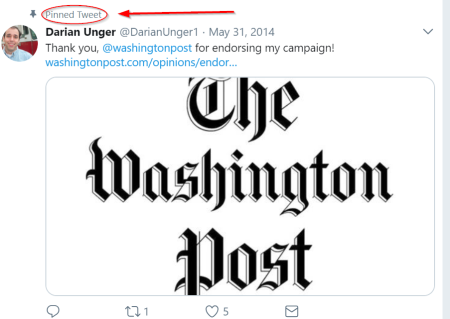 The following comes from a recent Unger mailer. It not only fails to note that the Jamie Raskin quote is from 2014, but also fails to provide the context, which is a survey of all candidates in the race that year, with something nice to say about each (i.e,. it was not an endorsement). 

Here's the full paragraph Unger grabbed that quote from:
Each candidate in this race has something distinctive and important to say that enriches our public dialog and needs to be heard. Justin Chappell, a veteran campaigner for the rights of the disabled, has eloquently underscored the central importance of effective and responsive government for the most vulnerable Marylanders amongst us. D'Juan Hopewell, a passionate anti-hunger activist, has spoken movingly of building coalitions to make government an instrument of empowerment for the poor. Will Jawando, who has had a strikingly impressive career in national politics and government serving Senator Obama and then President Obama on educational issues, has offered a compelling vision of "progress and opportunity, together." Jonathan Shurberg, longtime attorney and progressive policy advocate, has focused on the importance of promoting fair elections and educational opportunity for all. Darian Unger, an effective civic leader, environmental engineer and volunteer firefighter, provides a laser-like policy focus on climate change and the problems associated with environmental degradation. And George Zokle offers a strong and much-needed public policy focus on mental health, an issue with ramifications in areas ranging from education to public safety to housing.
I reached out to Congressman Raskin today to ask if he had authorized Unger's use of this quote. Here's a screenshot of our conversation.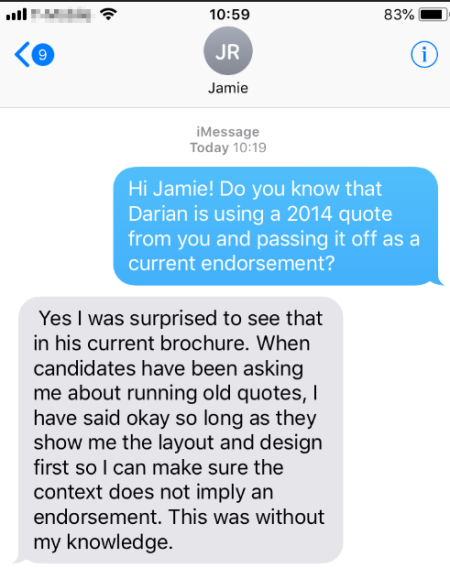 (Raskin asked me to note that his only endorsement for an open seat this year is Rich Madaleno for governor.)
Finally (for this round), Unger has claimed on every mail piece he sent this year that NARAL endorsed him. Again, Unger is distorting the truth: NARAL publishes a list of endorsements and a separate list of candidates with 100% pro-choice records. It's nice to see Unger on that second list, but he is not on the first one.

Darian Unger is running a thoroughly unethical campaign. The last thing we need is another self-absorbed public official so certain of their right to power that they cut corners to achieve and maintain it. 
Advertisements