Photo Post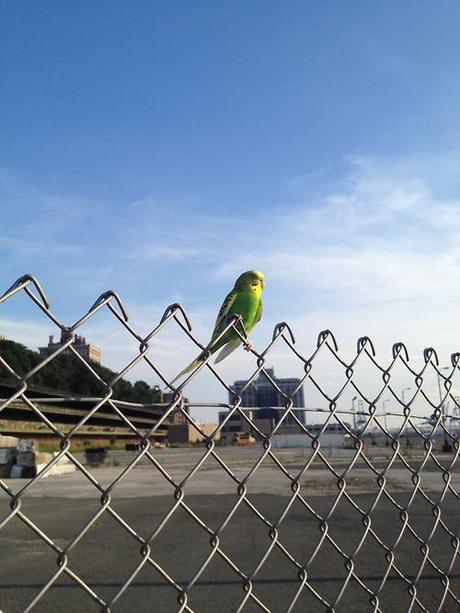 Yesterday, on my bike, I came across a neon green bird perched on a chain link fence in a construction area alongside the BQE. 
A couple was standing next to it, waiting for it to do something.
"Is it hurt?" I asked them.
"I don't know," the girl said.
Not one to miss an opportunity to photograph something, I took out my iPhone, and began snapping away. "Look at its little eyes!" I exclaimed as I circulated around it, capturing it from every possible angle. "It's shutting them. Do you think its about to die?"
"No," the guy said. "When I was little I lived near this place called Parrot World, and I learned that parrots have these films over their eyes that protect them from the sun."
"That's not a parrot," Caleb said. "That's a parakeet." 
"Sssh," I said to him.
"Maybe someone clipped its wings, and now it can't fly?" I ventured, sticking my face closer to the bird so that I could watch the film open and shut, open and shut. The bird sat there, placidly, and ignored me.
"How did it get to the top of the chain link fence, then?" Caleb said
"It climbed," I said. "Duh."
"I don't think it could climb that high," the dude from the couple said. "And how would it get over the BQE?"
"Maybe it came off the water?" I ventured. And then, "That doesn't make sense."
"I think it's just sitting there, enjoying life," the dude said. 
"Unlike me," I joked, waving my iPhone. "I only experience life behind this thing."
Caleb nodded his head in agreement. Right before we had come upon the parrot, we had been arguing about how much time I spend on my iPhone when I'm supposed to be spending time with him. "I'd say 80% of the time, we're alone, you're on that thing," he said.
"I wasn't on it when we were watching Prison Break this morning," I said. "Or last night when I was sleeping."
"I guess we're going to get going," the girl from the couple said. They waved goodbye to us, but not to the parrot.
"Do you think we should take it home?" I asked Caleb. 
"No," he said.
"It looks like it's sick," I said.
The bird looked at us, and the film over his eyes opened and closed, opened and closed.
"You should take him home," said a voice said. While we were watching the bird, an elderly couple had creeped up behind us, to see what all the fuss was about.
"Do you think Butters the Cat would eat a parrot?" I asked Caleb.
"That's not a parrot," he reminded me.
All of a sudden, the bird darted off the fence, and sped off towards the pier. It jerked and swerved, dropping to the water and then reappearing in the air. After only a few seconds, we lost sight of it completely.