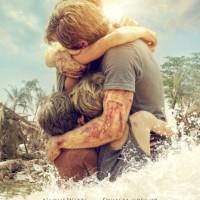 Movie: The Impossible
Director: Juan Antonio Bayona
Cast: Naomi Watts, Ewan McGregor and Tom Holland
Rating: ***
To sit through a visual recreation of an event as devastating as the 2006 Tsunami, which killed nearly a quarter of a million people, is a herculean task. Even though Spanish director Juan Antonio, with fitting contribution from Sergio Sanchez (screenplay) and Maria Belon (story), manages to sweep us off our feet with a gut-wrenching true story, one might still feel choked to sit through this emotional roller coaster ride.
The day after Christmas, a Spanish family, enjoying time at the resort, is separated when Tsunami hits the coast, destroying almost everything in its path. While Maria and Lucas, who are swept away from the resort, fight surging waters and survive with injuries; Henry and his two younger sons survive and manage to stay afloat. Will the family see each other again? This forms the crux of the rest of the story.
The film doesn't spend time introducing the characters but instead dives straight-away into the events that unfold in this emotional tale. The film focuses on the reunion of the family, and despite the survival of few other families, the focus remains directly on Ewan and his family. In a way it's good that the director didn't allow the plot to deviate from the lead characters but what he seems to have forgotten is, in this chronicle of survival, every family that made it alive deserves a mention. After all, it's about the survival of the fittest, isn't it?
Watts shoulders this film with passion and dedication which is very evident in her portrayal as Maria, an over protective mother, on the verge of a nervous breakdown searching for her lost family, yet fighting hard with massive injuries all over her body. Despite being lost and away from each other, one can infer that the distance between members only makes them want to be closer to each other. Ewan, though lives with fear in the heart, becomes a beacon of hope for the sake of his two young sons. Of the boys, Lucas turns in a performance that will not go unnoticed.
It's very unlikely to see a seasoned director such as Juan wrestle with a tragedy-stricken story such as "The Impossible", but thankfully he doesn't tamper and presents everything with honesty and sincerity. Without exaggerating he gives a brilliant first person view of one of nature's worst calamitous events that many of us may not have witnessed.
The technical department is of the highest level and succeeds in elevating the visual experience with a sense of paranoia and adrenaline rush. Fernando Velasquez makes every terror-filled moment come alive on screen with his solemn score, while Pilar Revuelta's set decoration will leave a lasting impact.