True Blood's Sam Trammell's latest film, Deadweight, wrapped up filming Nov. 6 in Sudbury's south end. Darren MacDonald of Sudbury Northern Life has written a bit about the experience and about Sam's experience there. Sam has spoken in the past about filming in January on True Blood and how having to be in the water, at that time, can be very chilly. In this new film he was required to dive into the chilly waters of Little Raft Lake on a late October night in Sudbury. Brrr! Read more about it below.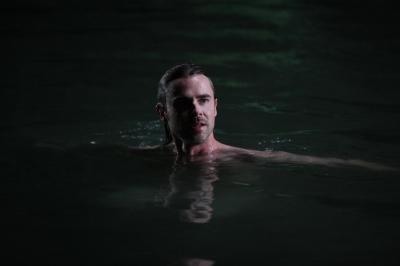 Sam Trammell in Season 2 of True Blood
MacDonald writes that the producers are tight-lipped about the plot. However, it's a thriller that tells the story of how far people will go to escape their humble backgrounds to join the wealthiest one per cent of American society. It's a safe bet someone is going to get killed.
"When young lawyer Richard Hunter and his wife Tara spend the weekend at the boss's cottage, they stumble into a violent dispute, and are forced to decide what they're willing to sacrifice for success – their morals, their marriage and their lives," said producer David Anselmo, carefully reciting the approved press release so too much about the movie isn't given away.
Shot entirely in Sudbury over a three-week period, the film was into its last few days of shooting when Northern Life was allowed to visit the set. With pressure building to complete the final scenes, the mood was tense but focused.
The three producers – Anselmo, Jordan Walker and Justin Kelly – rented a huge Raft Lake Road home to serve as the set, putting the homeowners up in a hotel for a few weeks. Inside was redone in a Mad Men-style décor.
Sam discusses his dive into Little Raft below:
"I went in twice," Trammell said, sitting in the living room set, still bundled in a hooded green winter coat after a freezing outdoor shoot a few minutes earlier.

"I went in about two weeks ago, and I was told the water was about 42 degrees (Fahrenheit). And I went in the day before yesterday, and it was about 36 degrees.

"I mean, the first time I went in, I had to swim to the bottom of the lake – and it wasn't too deep – and pull out this scuba diver who had the breathing apparatus in. It was unbelievably cold. I'm a surfer and I'm used to being in the cold Pacific Ocean. But a Sudbury lake in (late October) makes that feel like the tropics."
On this cold November night, with temperatures hovering around -4 C, Trammel and his Canadian co-stars in Deadweight — Laura Harris (Dead Like Me, 24), Josh Close (The Exorcism of Emily Rose) and Lina Roessler (Lost Girl) — had to spend considerable time outdoors, dressed like it wasn't freezing, as director Leah Walker tried to get the last frames she needed to complete her movie.
Read more about Sam's film experience by going to read the entire article at Sudbury News