In Southern California, seasonal change is a de facto phenomenon.  That is, we recognize it more by changes in human behavior and lifestyle (see: bikinis, back-to-school sales, and fantasy football) than by actual physical changes like weather.  But in other parts of the country – everything north of 35 degrees – seasonal change is a real phenomenon.  The weather cools down, the leaves change, skin color begins to fade (along with smiles).  People begin the long and and arduous process of preparing for the winter months, a rather depressing phenomenon that I hope to never participate in myself.
Seasonal change takes place in the kitchen as well.  After mourning the loss of asparagus and watermelon, we bury our sorrows in the warm and earthy flavors of fresh beets and butternut squash.  With great reluctance we cover up the barbecue and say a quick prayer, hoping the Powers that Be will bless us with an early spring come April.  Until then, we wait.  We roast.  We bake.  We sauté.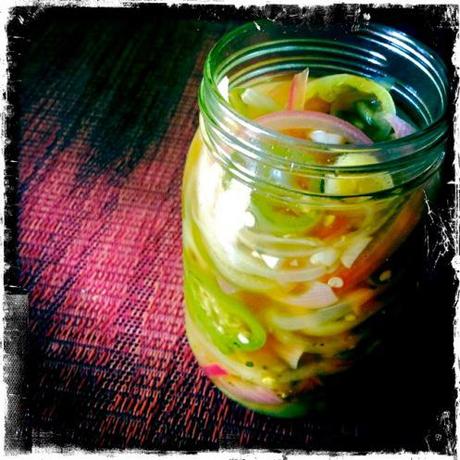 And we pickle.  The act of preserving food via salt and/or vinegar is a timeless one, practiced for centuries by Americans and even longer by our ancestors.  This simple cooking technique was pioneered almost 4000 years ago in India, when sailors needed a way to preserve food during long periods at sea.  It started with cucumbers but has spread to a number of fruits and vegetables, from carrots to lemon peels.  You can pickle just about anything these days.  The results, however, may vary.
Today's recipe is a Latin twist on pickling that combines apples, onions, and a variety of fresh Mexican chilies.  When combined with sugar and vinegar and left to marinate overnight, the mixture results in an intoxicating blend of spicy and sweet.  Its bold, provocative flavors are an excellent match for beef or pork, adding acidity and bite to your next carnitas or carne asada tacos.
Ingredients:
16 oz mason jar
10 oz apple cider vinegar
1/4 cup sugar
1 large apple, sliced
1/2 red onion, sliced
1 jalapeño chili, seeded and sliced
1 serrano chili, seeded and sliced
1 tsp garlic salt
Directions:  Place vinegar, sugar, and salt in mason jar.  Cover and shake well, until sugar has dissolved.  Add the vegetables and shake again.  Refrigerate for at least 8 hours.