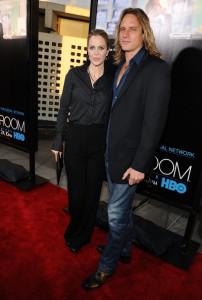 Kristin Bauer van Straten (Pamela Sywnford de Beaufort) is on a mission to help save the elephants. The Insider's Jared Wiesselman recently talked with the actress about how this mission has evolved into the documentary that she is trying to create called Out for Africa with the help of her Kickstarter campaign. But this isn't just an important cause, it also has a very personal connection. What began after a fateful dinner in Hollywood has taken Kristin on a journey that she hopes will take her to Kenya with cameras. So how did it start?
"My husband's family is from Kenya and his grandfather lived and worked in Amboseli, he was one of the scientists who first figured out how to tranquilize large animals to relocate and treat, so this has been a passion of his family. Specifically poaching, you know, ivory poaching and rhino horn poaching. Because I do a lot of animal stuff, I have been following this, and International Fund for Animal Welfare brought over this expert from one of the parks there, and had this dinner with ten Hollywood types and said he came all this way to ask for my help. I'm thinking, "Huh?! Are you talking to me?" How the heck do I help him and help elephants? So, it evolved as I kept talking to people and they kept saying we needed to do this documentary!"
The situation Kristin says is dire and as someone on television, she feels that she can shed light on the situation so that the people who are involved directly on a day to day basis can have a bigger voice. The documentary is a passion project for her but it feels very right given all of the help she's gotten:
"That's the question I've been asking myself, because unless I'm being set up for malaria or something by the universe, I can't help but feel like this is fate [laughs]. It's just been one wonderful coincidence after the other. My husband is much more metaphysical than I am. He has a much greater faith in the universe and I tend to be more of a " I'm going to roll up my sleeves and get at this thing" kind of person. But the help I'm getting is so astounding, it just feels right."
In order to meet her goal of $30,000 and more, Kristin has asked her True Blood castmates to help her by donating rare pieces of television memorabilia or signing things lots of things:
"Oh, I'm just whoring out my cast to save elephants and rhinos. I have signed scripts, Charlaine Harris sent me first edition books that she signed, I have our cast and crew wrap gifts from a couple different people, I'm doing a painting of Stephen [Moyer, who plays Bill]. Joe [Manganiello, who plays Alcide] just agreed to do a dinner with two fans, and we sold a dinner with the ladies of True Blood. I sent out an e-mail to my cast, and I got the mos amazing response. I got a signed Alan Ball script and the wardrobe department just gave me one of The Authority necklaces! I don't even know how to price that. There's only one in the world! Alex [Skarsgard, who plays Eric] ate half a sandwich and threw it away sandwich and I was like, "Oh my God, I bet I can get $500 bucks for that!" He signed one of the scripts and had some [fake] blood on him that made a stain on the script and I was like, "Isn't that another $200?!?" [laughs]"
So far Kristin's campaign has generated over $20,000 and incentives include a modesty pouch signed by Joe Manganiello (Alcide Herveaux), prints of drawings featuring Stephen Moyer (Bill Compton) and Alexander Skarsgård (Eric Northman) and signed first edition Southern Vampire Mysteries books. To see more incentives and to pledge, click here.
Source: The Insider.com- "KRISTIN BAUER VAN STRATEN PLAYS BAD, DOES GOOD"
Image Credit: Angela Weiss, Getty Images
Related Posts:
Video: Support Kristin Bauer van Straten's Kickstarter for Out For Africa
Photos: Kristin Bauer van Straten and Abri van Straten at HBO's The Newsroom Premiere
Kristin Bauer van Straten Addresses the Year of Pam With About.com