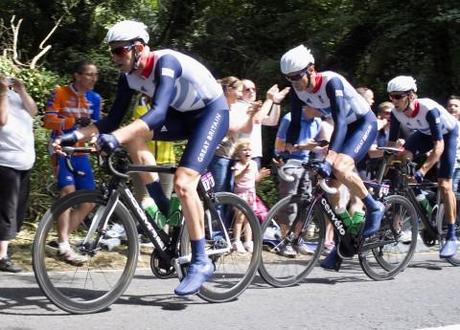 Mark Cavendish for Team GB cycling: BBC blames its shambolic coverage of the race on Twitter.
The background
Team GB swimmer Becky Adlington's Twitter followers were already into the thousands before her bronze-winning 400-meter freestyle race on Sunday – and exploded into the hundred-thousands after she took the podium. Tory MP Adrian Burley found himself at the center of a row after he branded the Opening Ceremony "leftie multi-cultural crap" in a tweet. And the BBC is blaming their botched coverage of the men's cycling road race on Saturday on Twitter, claiming that too many tweets from spectators jammed the waves and kept electronic updates from reaching the commentators.
Like it or not, microblogging site Twitter is changing the way the world is experiencing the 2012 Olympic Games.
How Twitter has grown since 2008
During the last summer Olympics, Beijing 2008, Twitter was only in its infancy: Founded in March 2006, it had been around for just over two years. Back then, the site was averaging only 300,000 tweets a day – but on Friday, the day of the Opening Ceremony, the site transmitted 9.66 million tweets just mentioning Danny Boyle's spectacular show, CNET reported. And according to TwitterUK's blog, there were more tweets in a single day last week than there were through the entirety of the Beijing Games.
Unprecedented access, via Twitter
Offering a somewhat dewy-eyed perspective on Twitter's involvement in the Games is the microblogging site's UK blog. "Twitter brings you closer to the things you care about and for millions of people around the world right now, that means the Olympics," wrote Lewis Wiltshire on TwitterUK.  "Never before have fans had such direct access to the Games, from athletes to fellow supporters, commentators and celebrities… we have already seen athletes talking to fellow competitors, sharing behind-the-scenes perspectives, answering questions and responding to good luck messages on Twitter."
Ahhhhhhhh bronze medal!!! Can't believe it! SOOO happy its unreal! The crowd was incredible! THANK YOU to everyone, your support is amazing!

— Rebecca Adlington (@BeckAdlington) July 29, 2012
Twitter becomes soapbox for Olympic rage
Twitter has also become an outlet for Olympic-sized venting from viewers and fans –as well as the athletes. Team USA football goalkeeper Hope Solo took to Twitter to lash out at former USA footballer and current NBC Olympics commentator Brandi Chastain for a perceived slight against the team's defense during USA's match-up with Colombia. Solo won't be disciplined for her tweet-rage, but many US commentators claimed that she showed a "lack of leadership" in trying to fire up a public feud. Meanwhile, US broadcaster NBC, which aired an edited and delayed version of the Opening Ceremony, is feeling the wrath of millions of angry Tweeters, disappointed by the network's decision to show some events live and others with a tape delay – #nbcfail is a trending topic. Wrote Richard Sandomir at The New York Times, "[I]n a digital age, aggrieved fans can take to social media to protest in a way that was never available until recently."
"Twitter is a gigantic spoiler machine," wrote Jeff Jarvis at BuzzMachine.
And it's effecting change – in more ways than one
Immediate reaction from Twitter users is forcing some media outlets and broadcasters on to the backfoot: Both NBC and the BBC have had to defend themselves from the thousands of broadsides landed by outraged Twitter users. But more than that, the microblogging site is affecting how we experience the games in other ways, too. For one, the BBC claims that too many tweets from spectators at the men's cycling road race on Saturday jammed the network used to provide updates and timing information, resulting in the commentator having to use his own watch to time the race. And, wrote Jeff Jarvis at BuzzMachine, "Twitter is a gigantic spoiler machine. It would be nearly impossible to isolate oneself from news of results because even if you don't read Twitter or Facebook or go to the net, someone you know, someone you run into will. Information can't be controlled."
MP Adrian Burley shows that no bad tweet goes unpunished:
Thank God the athletes have arrived! Now we can move on from leftie multi-cultural crap. Bring back red arrows, Shakespeare and the Stones!

— Aidan Burley MP (@AidanBurleyMP) July 27, 2012
The most leftie opening ceremony I have ever seen – more than Beijing, the capital of a communist state! Welfare tribute next?

— Aidan Burley MP (@AidanBurleyMP) July 27, 2012
.@AidanBurleyMP Did you prefer the opening ceremony of the Berlin Olympics?

— Ronnie(@68ron) July 27, 2012
More on the Olympics

'Ugliest' Olympics ever?
Six Olympic sports best played by cats