HAPPY FRIDAY EVERYONE!
❤
IT'S FRIDAY, ITS FRIDAY! I feel like skipping through a field of flowers! The sun is beaming, the birds are cheering! I am a very happy Tanja!
I'm really excited about these makeup looks of the day. So far I've gotten positive feedback! Anyone have any requests? Simply contact me!
So tomorrow is Saturday! Which means...I'll finally be revealing the new installment to the blog,  SPA SATURDAY! Hopefully it'll get positive reviews from you guys! Remember, you can always give me your honest opinion about anything! A beauty journey is all about growing, learning, & experiencing! 
What about the latest installment? BEAUTY INTERVIEWS! I'm all about detailed writing, discussion, & inspiration! Anyone have a new interview suggestion? Anyone want to get interviewed about their own beauty journey? You know where to reach me :) !
NOW!
Today's 
MAKEUP LOOK OF THE DAY
 is
.
.
.
*CLICK TO ENLARGE*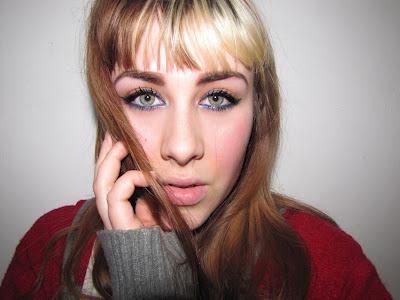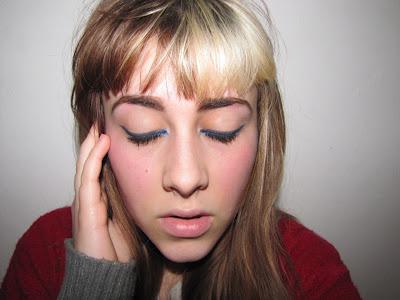 A SIMPLE METALLIC BLUE EYELINER LOOK!
This look is/was very IN this winter & into spring 2012. It's a simple *any kind of shade* blue eyeliner, all around the eyes, creating a bit of a cat-eye. This spring 2012 is supposed to be all about the lips, leaving the eyes as untouched as possible. They also say skipping mascara this season is very trendy, but I'd rather not do any eye makeup at all then skip the mascara!!
For face:
♡
Moisturizer: Aveeno Ultra-hydrating whipped soufflé.
♡
Primer: Sephora Collections Ultra-Smoothing primer.
♡
Foundation: M.A.C Pro Longwear SPF 10 foundation. 
♡
Blush: Maybelline FIT ME blush in Light rose.
For eyes:
♡
Eyebrow pencil: Rimmel London Eyebrow Pencil in 'Hazel'.
♡
Eye primer: Catrice Cosmetics Prime & Fine.
♡
 Eye liner: Essence METALLIC eye pencil in Heavy Metal blue.
♡
Mascara: Top lashes- Essence Maximum definition volume mascara. 
Stay tuned for the new SPA SATURDAY blog post tomorrow!! Until then...
Stay beautiful 
❤
-Tanja xoxo