Welcome to Book Raid, where I will be interrogating authors who will be releasing their debut or their latest books this year. This is a way to highlight debut or latest books that you may want to read after reading this recorded interrogation of what to expect of the book.
Today, I got the chance to Book Raid the second book in the Scary School series by Derek Taylor Kent aka Derek the Ghost which was recently named as "The Funniest Chapter Book of 2011" by Children's Literature Network but the author was no way funny. He gave me a hard time because he won't spill the beans about Monsters on the March—and I almost run out of record tapes—yet I gave him offers he didn't refuse. Check out the recorded interrogation I had with him.
Mr. Derek Taylor Kent aka Derek the Ghost, you have been suspected of hiding some details of the book, Monsters on the March, from the citizens. If you are not guilty of the suspicions, then I will interrogate you with some questions about the book.

Hey, who do you think you are? You ain't gettin' nothing outta me, copper. I know my rights!

What new things do we have to expect with Monsters on the March?

Look, I don't know how you managed to get me here or what you did to these walls to make them impossible for this ghost writer to fly through, but I ain't saying nothing! What? I don't care what you have to offer me. I'm not making any deals. Wait… are those ghost cookies? Ah geez, you know my weakness. Okay, okay, I'll talk.

You didn't hear this from me, but you're going to see so many zany new characters and settings, the whole world is gonna go bananas. You see, the kids of Scary School get to go on a trip to Monster Kingdom to meet the Monster King, and well, let's just say things don't go smoothly for some of your favorite characters. They'll have to get very lucky just to make it out of there alive. And that's all I'm saying! You'll have to wait until it hits stores on June 26 to find out more!

How much adventure, humor or mystery do we have to expect in the Monsters on the March?

Hey, you don't let up, do you? Well, I'll never spill my guts. Mainly because I don't have any guts to spill, but you get the point. Hey, what's that you got now? A ghost cake? I don't know how you learned to kill a cake—my old lady must have given you lessons—but I can't resist. There's going to be so much adventure, humor, and mystery in Monsters on the March, you can expect it to be on the edge of your seat cracking up the entire time, while simultaneously having no clue whodunnit. Here's a hint: it may have been Colonel Mustard in the Kitchen with a dumbbell.

But while you're on the subject of humor, I'm not sure if you saw this, but Scary School just won an award from the Children's Literature Network. It was named "The Funniest Chapter Book of 2011", so you know I ain't kidding you about the making-you-laugh part.

What did you like writing the most: the beginning, the middle, or the ending?

Like I said, I'm no snitch. But you can definitely blame the beginnings for being so much fun to write that it makes me wanna keep writing.

What was your favorite chapter or part to write?

There's a pretty special chapter called Thanksgiving with the Dark Lord. It's my own take of a very famous scene from a very famous book about the childhood of the most dastardly villain in literature history.

I also really enjoyed working on the website—www.scaryschool.com—if you go there you can do fun stuff like tour the school, meet the students and faculty, and you can even play a super fun video game. If you beat the game, word has it that you will win the weirdest trophy ever! So make sure to explore the website cause there's lots of hidden easter eggs that haven't even all been found yet! You know, like Jimmy Hoffa.

Give us a short quote from Monsters on the March.

My favorite quote, eh? Now don't quote me on this, but the new mummy teacher possibly says: "Death shall come on swift wings, for he who disturbs the peace of the king!" But I ain't saying who he says it to. I've said enough already. I'm probably a dead man the minute I float outta this station. Luckily, I'm already a dead man, so no big deal.

And remember, a guy like me—and Kaiser Soze—only sticks his head up for a moment, and then…poof! I'm gone!

Thank you for your time Mr. Derek! It is advised that you are free of all the suspicion of hiding Monsters on the March from the citizens!
---
ABOUT THE BOOK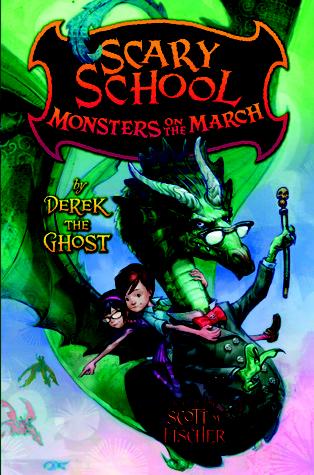 RELEASE DATE. June 26, 2012
PUBLISHER. HarperCollins 
---
SYNOPSIS. Once you've seen into the future, can you change your destiny?
As winners of last year's Ghoul Games, the students of Scary School are off to Monster Forest. School may be scary, but the forest has a few frights of its own, including: Bearodactyls, so terrifying we can't even show you pictures of them; Princess Zogette, the Monster King's toad-faced daughter who falls for Charles Nukid … hard; and Captain Pigbeard, fearsome leader of the Monster-Pirates and Princess Zogette's fiancé—well, former fiancé, thanks to Charles. And when Zogette follows Charles to Scary School, the Monster King and Captain Pigbeard raise their armies and chase after her. But the monsters have no idea who—or what—they're dealing with.
In this clever, funny sequel to the frighteningly hilarious Scary School, Charles, Penny Possum, Dr. Dragonbreath, and all the students and teachers prove that scary monsters are no match for Scary School!
---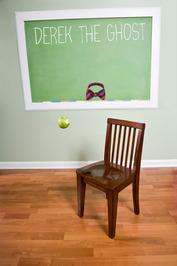 Website
 | 
Twitter
 | 
Facebook
 | 
Goodreads