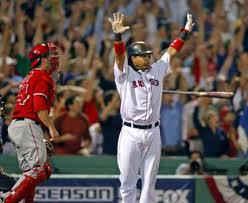 It looks like the Manny Ramirez Era has now finally come to a close, as he asked the Oakland A's for his release, and the club granted it today.
No word as to whether he will hook up with another club. But you have to think this is finally the end of the road for the 2004 World Series MVP.
However, his AAA numbers in his last nine games weren't bad: 13-for-35 (.371), 3 2B, 11 RBIs, 2 BB, 10 Ks.
Go figure. I guess it's Manny being Manny.
He leaves an unbelievably mixed legacy.
Thanks for the memories, Manny.