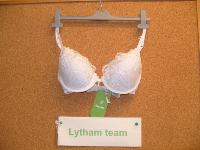 " />" />
photo : L Wilson
The connection between bras, bridges and Austrian alpine holidays might seem a little obscure, but it's all to do with one of the ancient icons of this creative country!
Bras
In case there's any doubt, this article is – in part – about women's underwear.
It's generally believed that the bra – or brassiere – was invented a hundred years or so ago. Brassiere was first used in the English language in 1893 and incorporated into the Oxford English Dictionary around 1911. By the 1930s, 'bra' became the popular abbreviation.
Early versions resembled a camisole (sleeveless vest worn by women) with a complicated bone system in place to provide support where needed – if you don't know what that means, you're clearly too young to be reading this!
Over time bras have become a multi-billion dollar business, with a move away from the functionality of bones for 'boob support' to fashion and frippery intended to titilate (no pun intended!). In all there are about 36 different sizes of bras, including an alphabetically arranged cupping system, introduced in 1932 and determined by volume and pendulousness of these feminine appendages.
A complicated formula is needed to work out the right size for best fit. Bra designers are alleged to have compared the whole process to building a bridge, because similar forces are at work:
challenges of enclosing and supporting a semi-solid mass of variable volume and shape, plus its adjacent mirror-image…. involves a design effort comparable to that of building a bridge or cantilevered skyscraper - wikipedia
Anyone unfortunate enough to have encountered the need for an under-wired wonder (generally we more 'generously proportioned' women) will appreciate that there is much truth in this observation. They're like wearing 3 tonnes of scaffolding!
Bridges are affected vertically by gravity and horizontally by external factors such as wind and earth movement. Breasts on the other hand are affected by more intrinsic factors (size, shape, weight) in addition to the obvious one of movement.
Fads and Fashions
The bras of the 19th century were much more functional than the satiny silky stuff we see in the shops today – notice I didn't say in our lingerie drawers. They're far too expensive for many of us and leave little to the imagination!
In the early 20th century – the Flapper era, when women wore short skirts; short hair; and showed a general disdain for anything considered acceptable in terms of sexual and social behaviour – bras were less welcomed .
And 'flapping' took on another meaning altogether. Let's leave that to your imagination….
By the 1940s, there had been a resurgence in the wearing of this item of ladies lingerie. The 'bullet bra' abounded – this was a conical construction, a lot like the creation worn by Madonna in her 1990 Blond Ambition World Tour. This style remained popular ( and was commonly associated with the burlesque movement of bawdy comedy in cabaret) until the arrival of the 1950s 'rockahilly' era.
Rockahilly was characterised by music based on 'rock' – as performed by the likes of Elvis Presley and Bill Haley – with a country music flavour. Funnily enough, anyone around in the early days of the loveable likely lads from Liverpool.. the Fab Four… The Beatles, will know that rockahilly was their preferred genre. But I digress…
The 1970s saw a move towards more natural looking lines and comfort became a prime consideration – Hallelujah!
More recently (2001) – and perhaps more readily identifiable as being associated with an Austrian alpine holiday – the Swiss bra manufacturer 'Triumph' launched a 'frequent Flyer' bra (now, given more time I could have real fun with that!), because the under-wiring in many modern designs tended to set off the airport security alarms. Funny the first time maybe, but not if you have to admit to wearing several tonnes of metalwork to support your bouncy boobs on a regular basis!
Lemberg Castle
Holiday-makers to Austria are usually enthralled by the many Medieval Castles perched high on mountains (there's scope there for word play of a saucier kind, but I'll resist and leave it up to you!).
And Castle Lemberg is no less intriguing than maidenly – or indeed motherly – mammaries. Set in the Tirol province, Castle Lemberg has turned the accepted wisdom of  bra- brainiacs on its head.
In 2008 an amazing discovery was made as archaeological work was undertaken. Linen and leather mixed together with dirt and dust, were uncovered in this 12th century fortification. This material mess included a number of bits of bras (not dissimilar to those worn by the 'material girl!). Positive proof that the development of the bra dates from medieval times – some 600 years ago!
And these were no mere functional foundation garments. They were intricately decorated with lace and other attractive adornments. One must wonder if this was just for the fancy of the women who wore them, or was the purpose more mischievous and meaningful?
Was the prettiness to please a suitor?