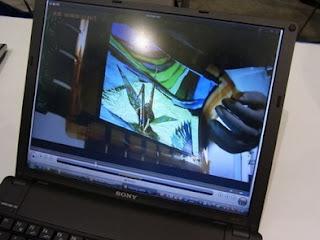 Sony has successfully developed a flexible OLED panel size of 9.9 inches and was announced at SID 2012 in which the event took place in Boston in 2012 and 3-8  June. It's
 flexible OLED panel has a frequency of pixels at 111ppi, with a pixel pitch of 228μm, and a resolution of 960x540piksel. 
OLED Panel is composed of two glass substrates are attached. 
At the substrates, consisting of TFT and OLED devices together. 
While on the other substrates, color filters (CFs) are formed. 
After attaching the two substrates, glass substrates must be removed or eliminated. 
TFT, OLED devices, and the CF can also be formed using the same manufacturing process with a normal glass substrates. 
OLED panel itself uses white OLED devices, and the red, green, blue and white (RGBW) color filters (CFs). 
white OLED device itself is formed using low-molecular material and vapor deposition technology. 
At SID 2012 event is, unfortunately Sony did not show direct its OLED panel but only show it through any PC screen. 
The company said it recently completed this panel and still do not have time to evaluate the reliability of this technology if the display out of the device.
source