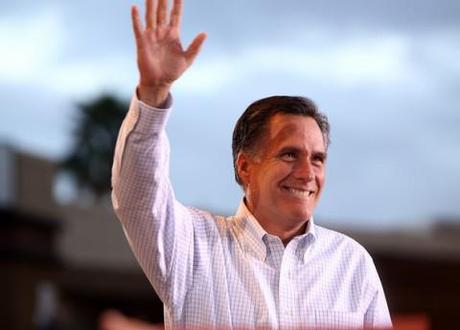 Mitt Romney, Republican candidate for President, didn't have such a great start to his first foreign tour. Photo credit: Gage Skidmore via flickr
The background
Mitt Romney's first foreign tour as the Republican presidential candidate didn't exactly get off to a stellar start, after he questioned London's readiness to host the Olympic Games just two days before the Opening Ceremony. The comments prompted sharp, public rejoinders from both London Mayor Boris Johnson and UK Prime Minister David Cameron.
Romney, who had a meeting with Cameron on Thursday, told NBC News on Wednesday evening that security issues around the Olympics were "disconcerting" and that because of them, "It is hard to know just how well it will turn out." Romney continued, "The stories about the private security firm not having enough people, supposed strike of immigration and customs officials, that obviously is not something which is encouraging." The former Massachusetts governor later appeared to backtrack, saying that he expected the Games would be "terrific", "highly successful", and full of "enthusiasm on the part of the people here in London", and adding that he's just a "guy from Great Britain" married to a "girl from Wales".
"There's guy called Mitt Romney who wants to know if we are ready. Are we ready? Yes we are!" Boris Johnson riles up a London Olympics crowd of 60,000, using Mitt Romney as a rallying cry.
Cameron later defended London's Olympics efforts and took a swipe at Romney's past Olympics experience as chief executive officer of the Salt Lake City, Utah, Winter Olympics in 2002. "We are holding an Olympic Games in one of the busiest, most active, bustling cities anywhere in the world," said Cameron. "Of course it's easier if you hold an Olympic Games in the middle of nowhere." Johnson, meanwhile, riled up a 60,000-strong crowd at a concert in Hyde Park marking the end of the torch relay saying, "There's guy called Mitt Romney who wants to know if we are ready. Are we ready? Yes we are!"
But while some commentators claimed that Romney's gaffes – and the catty Olympic remarks wasn't the only one he made that day – made him look like Mr. Bean, other noted that many Americans don't really care how their would-be presidents look abroad.
Romney sinks the special relationship
British papers reacted with indignation at Romney's comments, with The Telegraph reporting that the gaffe "overshadowed" his visit to London and elevated "his tendency for gaffes to the international stage". The Guardian proclaimed Romney's blunder a "gift" for President Barack Obama in the coming US presidential election. Others took to Twitter to declare that Romney was like an American Mr. Bean, and #romneyshambles became a trending hashtag chronicling his mistakes – including revealing that he'd had a meeting with the head of MI6. And then there was the matter of Romney's book, No Apology: The Case for America's Greatness, in which he described Britain as a "small island" that "doesn't make things that people in the rest of the world want to buy", as Joshua Keating at Foreign Policy's Passport blog pointed out.
Romney in London. Come on. We needed this. It's a little comic relief. Kind of like Mr. Bean, only he's an American.

— John Podhoretz (@jpodhoretz) July 26, 2012
Credit where it's due, That Cameron line to Romney about organising The Olympics "in the middle of nowhere" was quite the zinger.

— Dara O Briain (@daraobriain) July 27, 2012
Democrats making hay
Senate Majority Leader Harry Reid, a Nevada Democrat, wasted no time in shaming Romney for his blunder abroad, telling The Huffington Post, "It's not good for us as a country – it's not good for him – but as a country to have somebody that's nominated by one of the principal parties to go over and insult everybody." Reid continued, "You don't weather a storm by creating a couple along the way."
Not a big deal, say Republican supporters – we don't care about international headlines

Two Republican governors, Bobby Jindal of Lousiana and Bob McDonnell, aren't worried about the diplomatic stir their candidate is causing: "We're not worried about overseas headlines. We're worried about voters back here at home in America," Jindal said in a conference call on Thursday, according to ABC News. McDonnell chimed in, "I agree."
More on the US presidential election

Obama and Romney in the money wars
Are super PACs dangerous?
Romney clinches GOP nomination
Romney tax returns: The fall-out