London has looked spectacular on television during The Games – and the Paralympics are still to come so stay tuned!
Come and see us next year – we'll show you around. Our full schedule is at www.walks.com
In the meantime…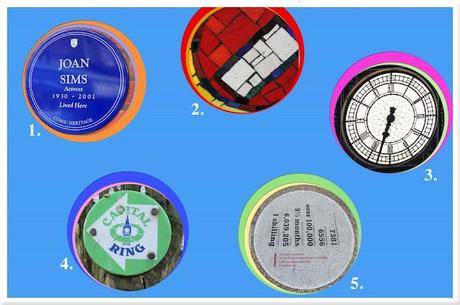 1. Joan Sims – her plaque in Thackeray Street, Kensington. Star of 24 of the Carry On comedy movies – the longest running movie franchise in the English-speaking world.
2. Detail from Eduardo Paolozzi's mosaic on the platform at Tottenham Court Road station.
3. A famous old clock face on a tower with a new name: the Clock Tower of the Palace of Westminster is now Elizabeth Tower.
4. The Capital Ring orbital walking route around our capital – some 80 miles in length. See our chums at www.walklondon.org.uk for more details.
5. Plaque marking the spot of The Great Exhibition in Hyde Park, 1851.
DURING THE OLYMPICS AND PARALYMPICS THE LONDON WALKS SCHEDULE WILL RUN WITH A NUMBER OF CHANGES TO THE REGULAR PROGRAMME. CLICK HERE FOR OUR SPECIAL OLYMPICS LONDON WALKS CALENDAR.
OUR REGULAR BLOG FEATURES HERE AT THE D.C WILL RETURN AFTER THE OLYMPICS.