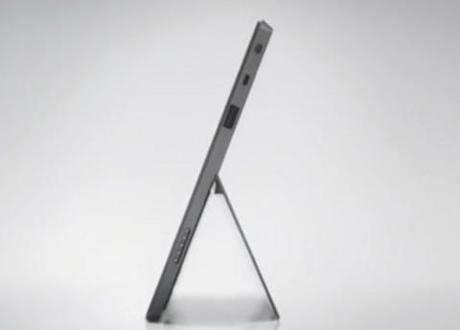 Microsoft Surface tablet with kickstand
The background
Microsoft has launched a series of tablet computers, in a move widely seen as a bid to compete with Apple. The devices, called Surface, will use the Windows 8 operating system. Microsoft has yet to name a release date.
Demand for tablets is predicted to grow in 2012, according to researchers IDC, with Apple expected to take 62.5 percent of the market share.
Will the Microsoft Surface tablets prove to be iPad-slayers?
Surface tablets: What you need to know
Gary Marshall provided a rundown of the key Surface specs at TechRadar. There will be two Surface models, one running Windows 8 Pro and the other Windows RT. "Both tablets have twin cameras, stereo speakers and dual microphones tuned for Skype, and their cases are made of VaporMg, a magnesium alloy that's very light and strong," said Marshall. And the surface tablets will include a nifty feature: "A protective cover that doubles as a pressure sensitive multi-touch trackpad and keyboard and that attaches magnetically."
A tablet that replaces a laptop?
"These two new Microsoft Surface products aim to convince users that a tablet, with a cleverly designed and slimline keyboard, can more than replace a laptop," said Matt Warman at The Telegraph. If Microsoft can pull that off, the devices look set for success: "That will allow Microsoft to access the millions of consumers who like the look of an iPad but can't justify a device that won't replace their laptop."
Industry analysts divided over price
The price of the Surface tablets has yet to be announced. Rick Sherland of Nomura Securities told The Guardian that he expected a price tag of $400 – $500, "which could see good volumes, as these tablets are highly differentiated from the iPad and offer functionality to compensate the user for not having access to the highly desirable Apple application ecosystem". By contrast, Carolina Milanesi of Gartners said: "I think these devices are not intended to be big volume drivers, so i would expect them to be competitive with the high-end iPad."
Technorati need to get to grips with the devices
The Microsoft Surface launch event was "one of the most controlled tech demos I've ever seen", said Chris Taylor at Mashable. "Even Apple lets you handle the product more than this…. Video was officially allowed on one side of the room only, where six Microsoft Surfaces sat behind a barrier on pedestals. They didn't move. They didn't function. They were like some kind of tech royal family." Taylor called on Microsoft to let the media get hands-on with the devices.
Watch Microsoft's Surface preview video below.