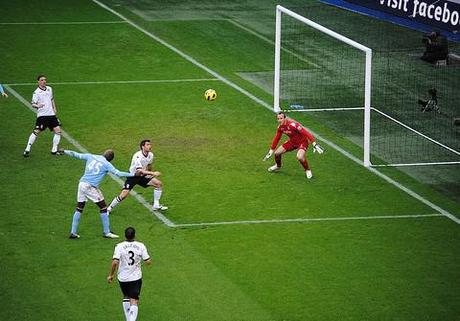 Mario Balotelli (45) heads toward goal in a Manchester City versus Fulham FC game. Photo credit: ZawTowers
Is Manchester City's bid for the Premier League title realistically over? That is the question being asked after Manchester City failed to win another winnable game against one of the league's lesser lights. Manchester City needed two late goals to salvage just a draw in their clash with Martin O'Neill's surging Sunderland. And it wasn't just the result which has Manchester City manager Roberto Mancini and the club's fans tearing their hair out – bad boy striker Mario Balotelli openly argued with captain Vincent Kompany on the pitch and the maverick Italian is reported to have almost come to blows with Yaya Toure at half-time.
Title (and cross-town) rivals Manchester United travel to relegation-haunted Blackburn Rovers tonight knowing a win will put them a commanding five points clear of City with just seven games left to play.
City may have just blown it. Daniel Taylor at The Guardian's Sport Blog, who was at the Sunderland match, said "it was difficult not to come away thinking this was the moment when it all unravelled for Manchester City … City have picked a bad time to go through their first sustained loss of form and the consequences threaten to be serious." Taylor said City players looked "tired, grumpy and short of ideas" and insisted Manchester United are now firmly in the driving seat: "For the first time United are in a position, two points clear with a game in hand, whereby they can lose the derby on 30 April and still be certain of claiming the title if they win their other games." Taylor pointed out that Manchester United's next four games are all against bottom-six teams followed by a visit from Everton, who have not won at Old Trafford since 1992, and concluded that, with their latest draw, City "may have just blown it."
The slump explained. Mark Ogden of The Telegraph identified five reasons why City have slumped. He blamed "rigid" Mancini's "refusal to compromise," the onset of fatigue, injuries – "while City were untouched by injury during the open months of the campaign, the treatment room has been standing-room only in recent weeks," Mancini's "predictable" 4-2-3-1 tactics and Manchester United's "extraordinary" form – "In any other season, 71 points after 31 games would see City standing well clear of the pack."
City have taken 12 points from a possible 30 in their last ten away games.
Balotelli is a huge distraction. Alan Hansen argued that Mario Balotelli "has become a damaging distraction at the Etihad Stadium and Roberto Mancini must shoulder the blame for allowing the situation to develop to the point where the player is beginning to affect the unity of the dressing room. When you are going for a title, Balotelli and everything that he brings with him goes against everything that you want down the final straight." Hansen said that "if he performed like Lionel Messi, Cristiano Ronaldo or even Wayne Rooney, then the players would hold up their hands and let him get away with it. But Balotelli is not a world-beater, he is certainly not playing well at the moment and he is a huge distraction." Hansen, who won plenty of titles in his time at Liverpool, insisted that "you don't need 'characters' when you are challenging for major honours, especially those like Balotelli who seem to want only to seek out confrontation with referees, opponents and even team-mates … What City need now is togetherness, unity and teamwork to get themselves back in the running for the title and, as such, I just cannot see how Balotelli can start again from this point on."
Realistically, it's over. At Tangled Up in Blue, the Blue Moon blog, David Mooney bid a "not-so-polite f*ck off … towards the month that has been as good for our title hopes as that last packet of biscuits has been for my training schedule before the Manchester 10k." "Despite it still being mathematically possible, it's at this point where I nail the Mooney colours to the mast and confirm, if the mildly sombre tone of this column so far hasn't already done so, that my towel is in the ring and I have come to the conclusion that City will probably not win the league this season. For me, the time has come to be realistic, rather than optimistic." But Mooney urged City fans not to be too glum: "Yet, whatever the outcome, this will be City's best ever Premier League season, given the club has exactly the same points total now as they did at the end of their previous best ever Premier League season – ie. Last season. Year on year for the last three campaigns, we have had our best ever in the Premier League; there's been progress and there have been lessons well and truly learnt. Roberto Mancini's City have always been better with each passing season. This season, his side re-wrote the record books early on. They stole the consecutive home wins record. They've given United their biggest ever home Premier League defeat. They've played football the likes of which most City fans have only dreamt of. And this is why anybody considering that the manager should lose his job if the club doesn't finish top of the pile is so, so wrong."