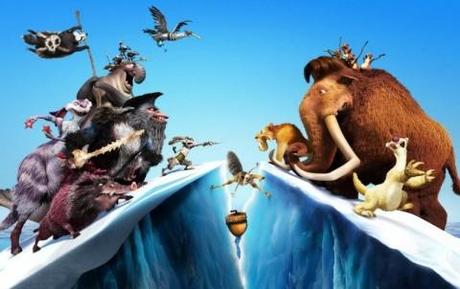 Ice Age 4: On thin ice with critics.
The background
The fourth installment of the Ice Age franchise is now in theatres: Ice Age 4: Continental Drift sees Scrat, the sabre-tooth squirrel obsessed with chasing his acorn, inadvertently set an entire continent adrift. Manny the mammoth (Ray Romano), Sid the sloth (John Leguizamo), and Diego the smilodon (Dennis Leary) are cut off from their friends and family, and forced to use an iceberg as a makeshift ship – cue extinction on the high seas and pirate jokes.
Critics are less than impressed by the franchise's latest outing, but that, they say, won't stop the kids – with parents in tow – from swarming the theatres.
The thinnest in the set
Robert Collins from The Telegraph described the latest Ice Age movie as "the thinnest in the set": A "novel premise", in the end, "it leads to nothing more than a very ordinary pirate story". Philip French from The Observer agreed that the main narrative is far too "conventional", the likes of which we've seen "too much" of lately (Pirate of the Caribbean springs to mind, for instance). And even with big Hollywood and TV names like JLo, Peter Dinklage, Nicki Minaj and others voicing the new characters, it doesn't seem to amount to much, argues Zinnia Ray Chaudhuri from Daily News and Analysis (India) "as most of them don't have more than three lines" ("Remember Jackie Chan as Monkey in Kung Fu Panda? No? Exactly!").
Scrat's the best, scrap the rest
Scrat, however, remains a critical favourite: Peter Bradshaw from The Observer described Scrat as having yet another "great cameo", while in the rest of the plot "we're stuck with the same tired old characters". Collins from The Telegraph agreed, asking if "90 minutes of Scrat center stage be too much in the inevitable Ice Age 5? Perhaps, but better that than more of this."
No extinction for this Ice Age as long as there are kids to watch it
Ice Age has really "lost its hype", and "the plot is infused with random events and makes for a tedious watch," complained Chaudhuri from Daily News and Analysis  – but, she continues, "the kids will love it. Every bit of it." And after criticising the movie's loudness, incoherence and sloppiness, Rafer Guzmán of Newsday asked, "Why do kids like this stuff? For the same reasons I did, I guess."
Watch the trailer here:

More on film

The Amazing Spiderman: New film reinvigorates franchise