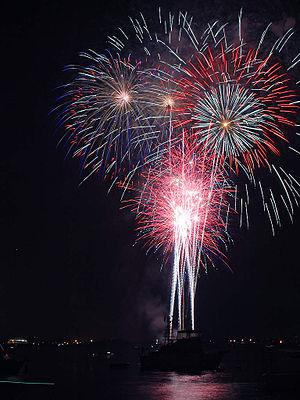 English: Independence Day fireworks, San Diego. (Photo credit: Wikipedia)
Because it's the first week of July – and we in America celebrate our national independence day on Wed – I'm kicking the week off with quotes on Independence – and will be independent of blogging the rest of the week!
A declaration of the independence of America, and the sovereignty of the United States was drawn by the ingenious and philosophic pen of Thomas Jefferson, Esquire, a delegate from the state of Virginia.
Mercy Otis Warren
First, I think more Americans need to declare their independence from partisan politics on both sides. The more that Americans declare their independence, the more the parties will have to compete for their votes using reason rather than the hateful appeals.
John Avlon
I love America more than any other country in this world, and, exactly for this reason, I insist on the right to criticize her perpetually.
James A. Baldwin
And lastly – here's a take on some fun with independence!
Divorce is a declaration of independence with only two signers.
Gerald F. Lieberman
Remember that independence was created by what a group of people thought – and what you think creates your life.
So remember that you create your day, life, freedom by the way you think – make it magnificent!
Blessings, Shawna