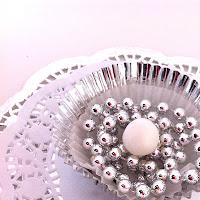 It's no secret that athletes undoubtedly go for gold when they go to the Olympics, but there is something about silver that I have always preferred... It's more mysterious, gentler, more feminine... that's how I see it in my mind anyway...
It's why I'm loving silver doilies and cupcake liners at the moment.  I used them a lot for Little Lotti's ballet party, and I'm still experimenting with them now.  Because they're more foil than paper they tend to fold and bend in different ways, for better or worse, and that can make them less forgiving, but their shimmer and shine more than makes up for their temperamental behavior.
Which is more than I can say for some of the athletes at the moment... I have no doubt it must be heart breaking to come away with anything less than the top spot... but a little bit of humility goes a long way... save the boo-hoo's for the post-game analysis and have the good grace to congratulate those who beat you on the day.... that's how I see it in my mind anyway...
Stay crafty people. x
(PS - the monthly newsletter goes out tomorrow, so go to the 'subscribe' tab at the top of the blog or on the web page if you haven't already - and don't forget the store wide sale is on through August so you can stock up on your printpapers and ebooks!)