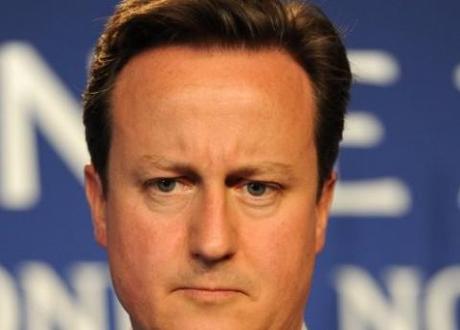 David Cameron: What does the Tory rebellion mean? Photo credit: Paumier
The motion for a referendum on Britain's EU membership was defeated in the Commons yesterday. But 81 Tory MPs defied party whips to either vote for the motion or abstain from voting.
Cameron miscalculated. Writing in The Independent, Oliver Wright argued that the prime minister had failed to understand just how strongly Conservative MPs feel about Europe: "The present Conservative Parliamentary party is more Eurosceptic than at any time," he said. Wright suggested that the current situation in Europe has given Tory eurosceptics confidence. What's more, Wright argued, Cameron's relationship with his backbenchers is generally poor: "Many MPs feel unloved by the leadership," he said.
Trouble ahead. According to James Forsyth on The Spectator's Coffee House blog, the scale of the rebellion will embolden Conservative eurosceptics even further: "If they can get this number of rebels in year two of the parliament, imagine how many they'll attract in 2014 when a whole bunch more MPs have been passed over for promotion," he wrote. Forsyth said that the prime minister needs to prepare a renegotiation strategy and improve his relationship with MPs.
Victory at a cost. Writing in The Telegraph, James Kirkup argued that Cameron's "muscle-flexing" has angered two key groups within the Tory party: the Conservative Right, already unsettled by Liam Fox's resignation; and newly-elected MPs, who feel isolated from the prime minister's "cliquey leadership" and therefore believe they have little chance of ministerial posts.
A sad day? A Daily Mail editorial comment piece struck a gloomy note: "What grieves the Mail, as an admirer of the Prime Minister, is that all this was so unnecessary." The Mail criticised Cameron's decision to impose a three-line whip on Tory MPs to vote against the "ruthlessly suppressed" motion – and for introducing the  "gimmicky" e-petition system that sparked the Commons debate in the first place.
The right decision. The motion suggested three options for the proposed referendum: Britain should leave the EU, Britain should stay in the EU, or Britain should renegotiate the terms of its membership. A Times (£) opinion piece suggested this was badly thought out: "The sponsors of the motion appeared to have no view on how a referendum with three options would work and they were unable to say what they actually meant by renegotiation."
Fanatics? Writing on The Guardian's Comment is Free, Polly Toynbee criticised Tory "fanaticism" over Europe: "Mouth-foaming eye-swivellers abounded in today's debate," she said. Toynbee argued that "being in Europe is our destiny" and said that deliberate misinformation about the EU has drowned out sensible debate.