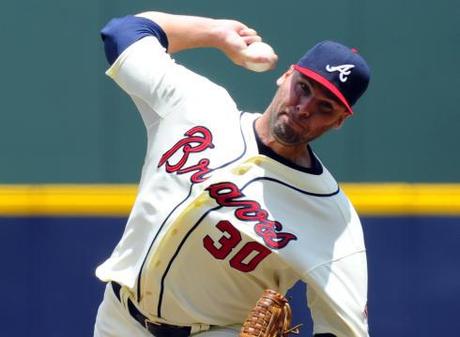 Photo: Dale Zanine - US Presswire
- Adam Parker
Well, well, well.
Ben Sheets -- formerly of the Oakland Athletics and probably most remembered for his days as the staff ace for the Milwaukee Brewers before the likes of Yovani Gollardo, CC Sabathia (now with the Yankees), and Zach Greinke took the mound for the Brew Crew.
The 33-year-old Sheets made his first major league start after a two-year absence on Sunday as a member of the Atlanta Braves.
Oh, and did we mention he won it? 88 pitches, 57 strikes (40 swinging), and five strikeouts in six scoreless innings.
Flawless.
I mean, let's be honest, did anyone remember this guy was still around, or did you, like us, believe he'd just fallen off the face of the Earth?
I'm guessing the latter.
After all, it's not often a player staring down the gun barrel of what was likely to be a premature and essentially forced medical retirement because of lingering injury woes with his pitching (right) elbow.
Why this is such a great story is simple, really. This is no ordinary comeback. The state of Sheets' right elbow was comparable to Hiroshima — post Atomic bomb.
It was a complete and utter mess. Understand, Sheets'
 elbow was already in a horrendous state before his surgery in 2010, and when doctors opened the arm up to get a better view, they quickly realized that surgery was unavoidable because not only did they need to repair a torn flexor tendon for the second time in as many years, but they were also looking at: 1) a torn ulnar collateral ligament, which would require Tommy John surgery; and 2) damage to his pronator tendon.
Now, I'm not going to pretend to know what that all really entails — I'm certainly no doctor.
But it doesn't take a medical degree to give you a rough idea on Sheets' prognosis. It wasn't good. At that point, the idea of a Major League comeback hadn't even crossed Sheets' mind. His only request was, "I just wanted them to fix me so I could play catch with my boy."
Wow.
Talk about a fall from grace. The former four-time MLB All-Star with the Brewers was now just hoping to have the arm 'put back together enough' just so he could enjoy tossing the ball around with his kid. Sheets wasn't counting on any miracles, and had all but closed the door on any chance of continuing his professional career.
And then something totally unexpected happened — the doctor that performed Sheets' surgery in 2010, Dr. Keith Meister, called Sheets up in early March and enticed him to get back on the horse and make a run at a comeback, which ultimately led Sheets to working out for the Braves in a simulated game five weeks ago.
"He was the guy who got me into this mode again," Sheets said. "I'm sure being the doctor who did it, he wanted to see some good results. But he was the one in early March who called me and was like, 'Hey man, why don't you get going again?' He lit the fire."
Fast forward to now and the Braves (49-39) have won seven straight contests and are only three games behind the upstart Washington Nationals (51-35) in the National League East, a race that Sheets could prove to be a pivotal factor in. He may have lost a mile or two off his velocity, but that didn't matter much on Sunday. Sheets has always been known as a strike-thrower; painting the corners with perfect precision. When you can locate the ball like he did, you don't need to be throwing gas out there.
How many chapters this Sheets comeback story will have is still unknown. After all, who knows how long that MacGyver-style reconstructed elbow will hold up over the rigors of a Major League season?
How ever long this lightning in a bottle lasts, I know I'll be watching. I mean, who wouldn't? This is a modern-day medical miracle.
Good luck, Ben. Keep grinding. We'll be watching.
Be sure to follow Beard And Stache on Twitter 
@BeardAndStache
, and also Adam 
@Adam_Parker43
, Like our Facebook page 
HERE
!