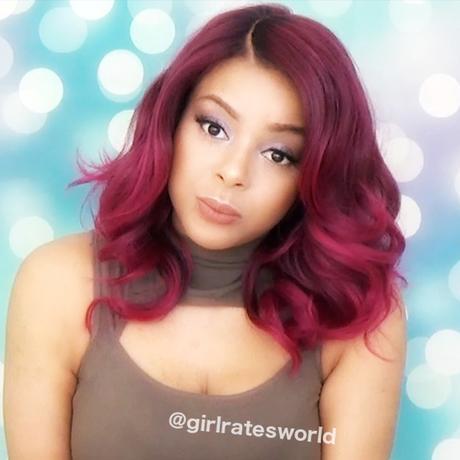 This is Zury Sis Lu Wig. What a beauty! The color selection alone is amazing. The parting is perfect and so is this the length. It's a playful, mid-length style that can be worn everyday. I think the Lu wig is well constructed and I would definitely recommend. My only complaint was the shine. It will need to be dulled down to look more natural.
Lu can be purchased for under $40 online at amazon and local beauty supply stores. Be sure to watch my detailed, live review below. It has more information on the style, fit and specs of this wig.
Similar styles: Zury Sis Aura, Zury Sis Ari 24, Zury Sis Amry
ZURY SIS LU WIG REVIEW

WIG SPECS:
BRAND:
Zury Sis
NAME:
SW-LACE H LU – Swiss Lace Synthetic Lace Wig
COLOR SHOWN HERE:
SOM FUCHSIA
DARKENED ROOTS :
No
HEAT SAFE:
Yes – Up to 400ºF / Heat resistant fiber
MATERIAL:
Synthetic – Heat resistant fiber
TYPE:
Lace Front Wig
LACE:
Swiss
EAR-TO-EAR LACE:
Yes
LENGTH:
Layered 14 – 16 inches
PARTING:
5-inch Lace Part
ADJUSTABLE PARTING POSITION:
No – right only
WIG CAP:
Comfortable size with 2 combs at temples and 1 in back; adjustable straps.
RATING:
4 stars by GirlRatesWorld

TIPS FOR STYLING:
– use mascara or permanent marker to darken roots
– add some dry shampoo to remove excess shine – I use Oscar Blandi or Dove dry shampoo
– keep all heating tools below 400 degrees when styling. I use the Conair Infiniti Pro with 1 or 1 1/2 inch plates
– add a cream concealer or foundation powder to parting
– apply a quick setting hairspray like Instant Freeze to lock style in place

I'M SOCIAL!
I hope you found this review on Zury Sis Lu Wig helpful. I have dozens of wig reviews posted on this site. Stay up-to-date by following @GirlRatesWorld on all your social media sites. YouTube | Pinterest | Instagram | Facebook.
Related Post
HAZEPURPLE! FreeTress Equal Lace Front Wig Justice
Freetress Equal Lace Front Wig – FOLAMI
Sensationnel Empress Goldie Wig – Gold Star ...
Model Model Maera Premium Seven Star Wig

About GirlRatesWorld
Beauty and style lover with an addiction to wigs, pups, french toast and neon polish. Hundreds of reviews under my belt with new ones added weekly. Be sure to swing by often ♥︎.