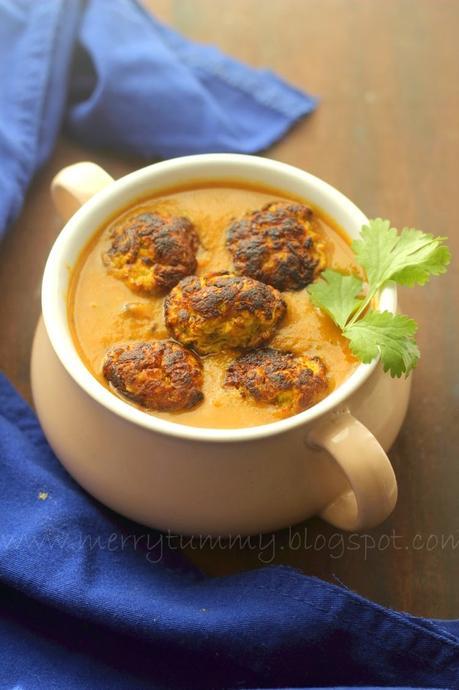 And there you have another kofta recipe. This is more like a requested recipe. A week back a reader emailed me asking for an interesting and yet healthy zucchini recipe. In Hindi zucchini is called as taroi, tori, turai or galka. In India people think it is boring and a very pale vegetable. Only when I moved to London I realized that is a very versatile ingredient, people have used it in cakes, pasta dishes, sushi rolls and what not.
I wanted to produce a recipe that is Indian and ofcourse healthy too. Dont you think zucchini is like bottle gourd (luaki) in taste and texture? I do, and that's why just like Lauki Kofta Curry, I made koftas out of zucchini too. For a healthy twist, all you need is paniyaram pan and little extra time. I said little extra time because these koftas are made on a very slow flame and that what helps to give the perfect texture. You need to cover the pan and keep an eye so that it cooks evenly from all the sides and there you will have crisp on outside and soft from inside koftas- don't forget zero oil :)
Trust me Zucchini Kofta Curry/Subji will be your favorite. Dunk these koftas in tomato gravy or yogurt gravy and enjoy its hot scoops with moong daal parathas or methi theplas.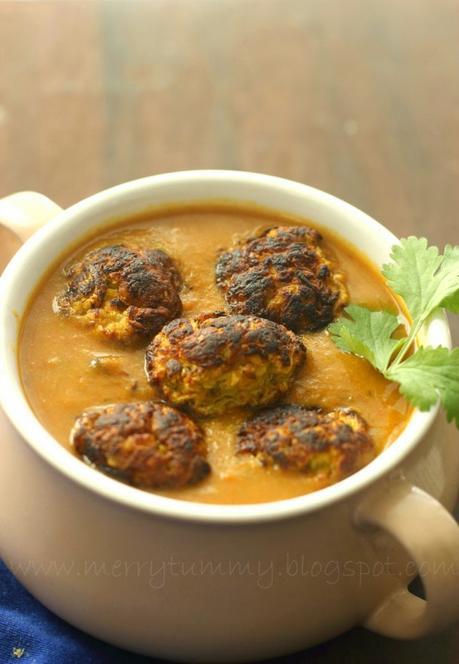 Ingredients:
(For Kofta)
1 large zucchini/taroi
2 tablespoons chickpeas flour/besan
Salt to taste
1/4 teaspoon fennel seeds/saunf
1 green chilli
1 garlic clove/lehsun
1 teaspoon coriander leaves/dhaniya

(For Gravy)

3 medium tomatoes

2 onions/pyaz

1/2 inch ginger/adrak

5 cloves garlic/lehsun

1 green chilli

2 tablespoon yogurt

2 tablespoon oil

Pinch asafoetida/hing

1 teaspoon cumin seed /jeera

1 tablespoon gram flour/basen

1 tablespoon coriander powder/dhania

1/2 teaspoon turmeric /haldi

1/2 teaspoon salt -adjust to taste

1/4 teaspoon red pepper powder/lal mirch

2 tablespoon finally chopped coriander/hara dhania

1 teaspoon sugar


Method:

(For Kofta)

Peel the skin of zucchini and grate it finely. Add 2 pinches of salt in it and leave it for 2 minutes.

Chop green chilli, garlic and coriander leaves finely.

Squeeze out water from grated zucchini. Apply pressure with your palms and squeeze as much water as possible.

In a mixing bowl add everything together and make soft dough.

Heat paniyaram pan on a high heat, when it gets hot turn the flame to low. Make balls from the dough and put into each whole (cavity) of the pan. Cover and cook when it turns golden brown in color.

Keep turning the koftas and cook till all the sides are crisp.




(For Gravy)

Blend the tomatoes, green chillies, garlic, onions and ginger to make a puree.

Heat the oil in a saucepan on medium-high. Add the asafoetida, cumin seeds and gram flour. Stir for minutes.

Add the tomato puree, coriander powder, turmeric, and cook on medium heat until the tomato mixture starts leaving the oil and reduces to about half in quantity.

Next add yogurt and cook for another minute.

Add about 1 cup of water and the salt. As it comes to boil reduce the heat to medium-low and let the gravy cook for few minutes.

Add the prepared koftas and let it simmer for another 7 to 8 minutes.

Turn of the heat and add the coriander and cover the pot.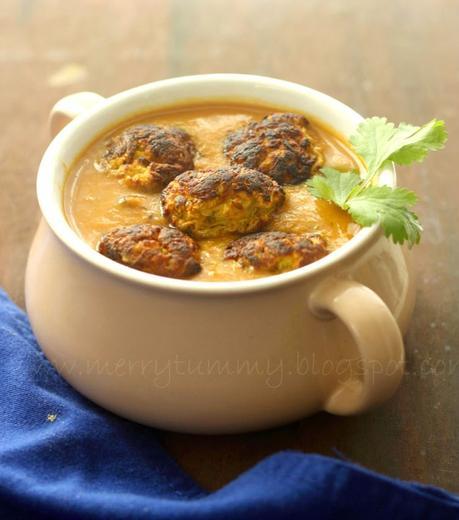 Notes:
Once you mix everything together, don't delay in making the koftas because the salt will make the 
dough watery.
These are absolutely no oil koftas, however you can add little oil in each whole of the paniyaram pan for more crispy koftas.
Paniyaram pans are easily available and I use the non stick one. You can buy one 

from here

 as well.
Serving suggestions:
Serve them with any Indian bread-roti, parathas or naan.
Serve along with rice or pulav.
For the complete Punjabi thali

serve it with

paneer butter massala

,

aloo chole

and

dal makhani

.
More Kofta Curry:
Lauki Kofta in 1 Tablespoon oil
Paneer Kofta
Cabbage Kofta
Dahiwale Luaki Kofta