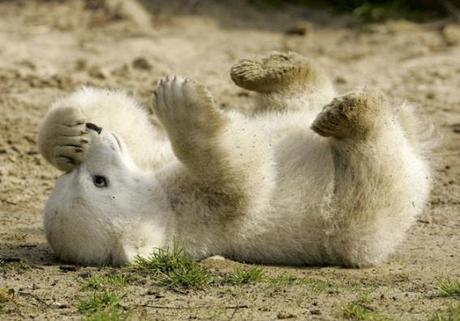 We have received updates today on two stories we posted recently about Zoo animals. The first being the fate of Germany's favourite non-octopus zoo inhabitant, Knut whose mysterious death had everyone puzzled.
After a post-mortem examination the vets have revealed that an infection may have caused his brain to swell leading towards him collapsing into a pool of water and drowning.
At its height Knutmania was bringing in more than 5 million euros for the Berlin Zoo. There is word that Knut will now be stuffed and put on display at Berlin's Museum of Natural History as part of a climate change exhibit. This has promoted an angry response from many of his fans culminating in a "Stop the Stuffing of Knut" demonstration at the zoo this weekend.
On the other side of the pond the missing NYC cobra has been discovered coiled up in a dark room inside the reptile house. After its extensive tour of the city and subsequent twitter popularity the snake is said to be in good health and will be looking forward to some more public attention once the reptile house is re-opened.