We're tried hard to find just the right headline but this story is interesting enough by itself with or without a catchy headline. In 2007 a new bridge opened over the Moscow River, and when completed it became not only one of the "50 Wonders of Moscow" of which yes, there is such a thing.
Upon opening the bridge entered the record books as the longest cable spanned bridge in Europe at 1,460 meters. Zhivopisny Bridge (Живописный Мост) translates as "picturesque/scenic bridge" and that is true as thousands of photographs are taken of this bridge each year.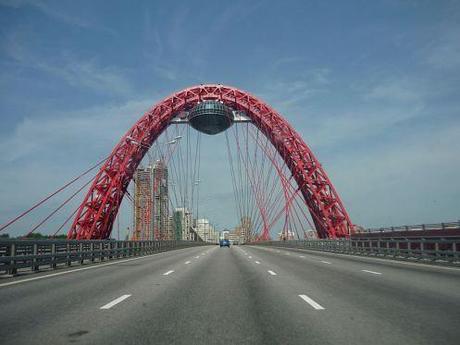 Zhivopisny Bridge, northwest Moscow.
What may surprise you is what lies underneath. Sections of the bridge do cross the Moscow River but engineers were required to build much of the bridge along the riverbank in order not to impact Serebryanyy Bor, one of the largest ecological park areas in Moscow.
The bridge was constructed on three levels including new underground portions of the famous Moscow Metro (subway) system, a modern highway above ground on another level and an enclosed tunnel under the roadway designed to carry exhaust gases away from the protected area.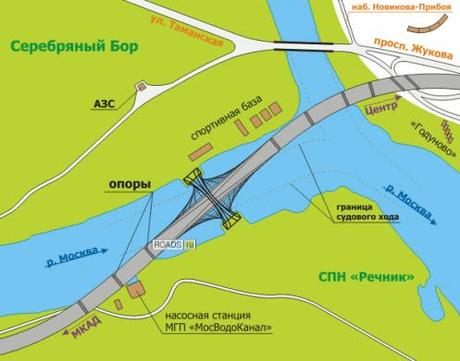 Even more alluring is what hangs suspended above the bridge: An ellipsoid shaped pod, measuring 24×33 metres, seems to hover from the top at the center of the bridge. Engineers originally designed the pod as a restaurant with an observation deck.
City officials were confident that a 100-seat sky-high restaurant above the road with panoramic views of the river and the nearby protected silver birch forest would be a hit.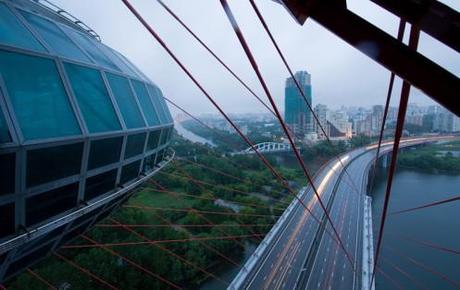 This next part makes on wonder about the safety of the entire structure because while the bridge was completed and is in use today, safety inspectors refused to allow the pod to be developed and cautioned the city that the pod structure could be in danger of falling. With those concerns the restaurant project was shelved for some time.
Then along came the civil registry office of the city of Moscow with the announcement that the "flying saucer" looking deck would be completed and turned into a "wedding palace" (Дворец Бракосочетания) known by the acronym ЗАГС (ZAGS) where state ceremonies and registration of marriages take place. After structural engineers had fixed the defects in the design, hopefully.
The opening was delayed for a couple of years however but last month city officials and head of the Moscow ЗАГС (Civil Registry Office), Irina Muraveva, said that the residents of Moscow will be able to marry in the glass pod by the end of this year, with ceremonies literally under the arch of the scenic bridge while hanging above the Moscow River and the Serebryanyy Bor below.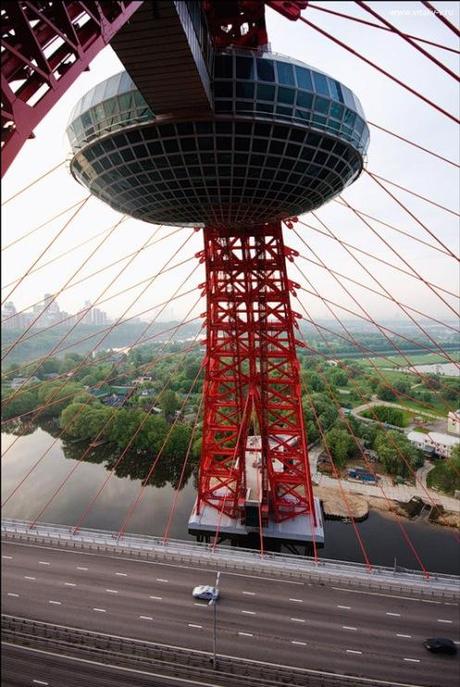 (photo: zyalt.livejournal)
For now, engineers are putting the final lifts (elevators) into place. This wedding palace will have two wedding spaces, inside the pod and the other on the observation deck overlooking the river. Having a wedding ceremony 105 metres above the everyday fray below will allow couples to enjoy "a match made in heaven. "