Kalila Aguilos plays Queen Femina at 3 p.m., while Pinky Amador steps into the role for the closing 8 p.m. show. Pinky, whose fierce and fab intergalactic queen (those super-crisp, crystal-clear lines in the Queen's English!) has played a large part in keeping the long-running show from tumbling into staleness, recounts a funny incident in her blog. From When your Props come Vack with a Vengeance:
Our run comprised of 16 shows, so I naturally had 8. On my 4rth show, I was determined to get the show down "perfect" in terms of dialogue, lyrics, choreography, timing, etc. One funny experience I had which had almost everyone in the scene cracking up, was in the climax of "Prepare to Meet Your Doom" wherein I threaten Zsa Zsa Zaturnah with a "Cold Wave Motion Gun" (hairdryer), which is handed to me offstage before I aim it at her temples. Alas, not checking the position of the dryer, when I finally aimed it at her, it was reversed, facing me!... And it happened to be the show where I had a friend taking photographs of my performance! So now, not only is the moment forever in my memory but in photographs as well, and now because of this blog: online! So much for a perfect show ;)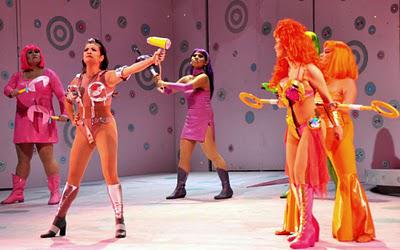 Read the rest of her entry--a peppy peek at how this veteran performer prepared for the role, leaving nothing to chance so that "it wasn't enough for me to perform 'well' but to get to that level to have that 'ease' in knowing a character so well, you can actually start experimenting," as she put it. It paid off, apparently; her Queen Femina comes off as completely different from those of Kalila and the two others before her--Agot Isidro and Melissa Reyes. Suarestellar, indeed.
[Photo by Joel Nuñez]
Zsa Zsa Zaturnnah's last two performances are this Saturday, March 19, 3 p.m. and 8 p.m.--the evening show a replacement of the March 5, 8 p.m. show previously cancelled. For tickets, call 8919999 or CCP Box Office 8323704; or group ticket buyers 0906-3000743, 0918-904418.