Rising sea temperatures have caused huge losses in the small-scale farming practice which has been supporting the island's women for 25 years, demonstrating the need for adaptation in small-scale farming globally.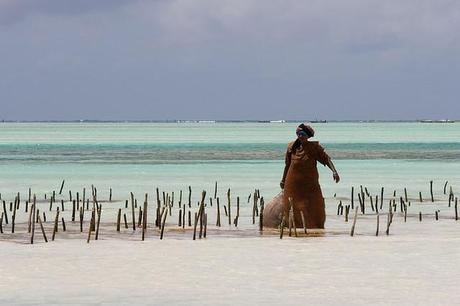 Image courtesy of Wendy Lin
For the past thirty years, the shallow waters of the Indian Ocean have been fertile fields for the women of Zanzibar, off the cost of Tanzania; who's celebrated seaweed harvest is exported all over the world, as far away as Korea, Denmark and the US. "The quality of seaweed in Zanzibar is much better than the others," says Khamis Issa Mohammed, secretary-general of the Zanzibar Exporters Association. The Seaweed gardens are arranged at a depth of around one meter with two sets of sticks arranged in rows along the sea bed; ropes are tied between the sticks, which anchor the seedlings strung between them. The practice, introduced from the Philippines in the 1980s produces around 12,000 tonnes of seaweed for export every year. Seaweed is used in a wide variety of products, from medicines to cosmetics as well as in food in a processed form or the millions of leaves used in sushi.
The industry was worth $8 million to the island, 25% of its total GDP. Seaweed farming employs 23,000 people on the island, 90% of which are women, giving them an income and independence from their husbands, allowing them to better support their families. Mwanaisha Makame described it as her "gift from the ocean"; peak yields of 15,000 tonnes were reached in 2012, leading local papers to declare that "Mwani is money". Since then however, much of the seaweed has begun to die. The women blame rising sea temperatures due to climate change, causing a loss of 4,000 tonnes of product. Researchers believe that the warmer waters have allowed a bacteria, which feeds on the seaweed, to limit its growth.
A possible solution, which has worked on the neighbouring island of Pemba involves moving the gardens to deeper water where temperatures are cooler. However the women of Zanzibar, due to its traditionally conservative Muslim culture are generally not taught to swim. This situation is just one of countless stories from small scale farmers around the world who must adapt their methods to the changing climate. Zeinab Hassan Makame is one who has realised this; a former seaweed farmer, she is now producing crops with cut plastic bottles, growing an array of seedlings - mangos, guavas and limes. "I have now decided to prepare a tree nursery and weave baskets and mats. The present income is not as much as it used to be, but the beginning is always difficult. I hope to be successful."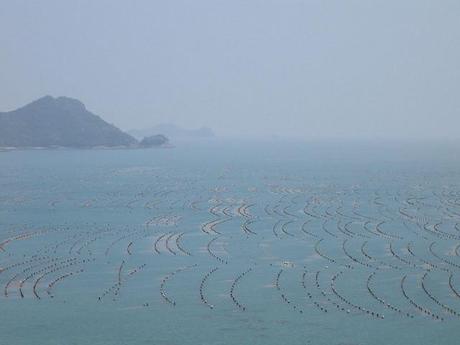 A possible solution? Image courtesy of Joel Burslem
Adaptation in farming methods particularly for Africa, is needed to unlock its under-utilised agricultural potential and will be key to feeding the growing global population in years to come. The IPCC predicts that yields of rain-fed crops will decrease by up to 50 percent and that an estimated 50-250 million Africans will face increased water stress by 2020. With only about 6 percent of African crop lands irrigated, the impact on smallholders, who do not have the resources to adapt as quickly as bigger corporate farms, could be catastrophic. Globally, these independent farmers (generally defined as those who are working an area of land less than 1 hectare) are absolutely critical to global food security, producing 70% of the world's food. These farmers are often overlooked; they have limited access to the best seed varieties, agrochemicals and reliable water supply. Improving smallholder productivity will take as much political will as technological advancement; switching to high-value crops which give a greater income for each liter of water used is certainly attractive in the short term.
However, the events in Zanzibar are typical of another factor holding farming back; the United Nations Food and Agricultural Organisation's predict that climate change will disproportionately impact women negatively, further increasing the inequalities that exist in the global food industry. An estimated 80% of smallholder farmers are women and as climate change intensifies, demands on these women's time are likely to increase, taking girls out of school in order to collect crops and carry water, further perpetuating the cycle of poverty by limiting education. Both men and women need to be involved in the decisions that will need to be taken for smallholder farmers to survive the challenges of the farming future.
If these issues can be addressed, there is an opportunity for these smallholders to be at the forefront of the sustainable agricultural revolution - where the farmers work with functional ecosystems to manage pests, water use, pollination, distribution of nutrients - making their crops more resilient to the effects of climate change. Smallholders have been utilising these ecosystem services for years having been without the ability to increase their yields through technological development and are ideal to convey these ideas to larger scale farmers. For the women of Zanzibar, adapting their farming methods will be necessary to keep their independence. For the food industry, adaptation is critical for survival.
If you're passionate about conserving the environment, why not find out more about joining aenvironmental conservationproject as a volunteer?
Get more from us on social media with Facebook, Twitter, and Pinterest. 
See more from volunteers on YouTube, Flickr and Instagram #FrontierVolunteer.