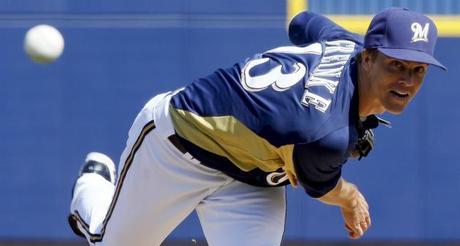 Photo: Chris Carlson - Associated Press
- Adam Parker
New faces in new places — that's the story dominating baseball this July leading up to the MLB trade deadline at the end of the month.
Many players have new homes. Marlins' third baseman/shortstop Hanley Ramirez moving to L.A. to team up with Matt Kemp and Andre Ethier in
Dodgers' Land, 
while Anibal Sanchez departs from San Francisco and lands in the
Motor City
to pair with Justin Verlander for the Tigers.
Both solid pickups, however, both moves pale in comparison to these next two players, probably the two most notable names to date and the ones that we'll be focusing on — Francisco Liriano heading from Minnesota to Chicago to join the White Sox and Zack Greinke going from the Brew Crew in Milwaukee to the
City of Angels
to team up with, well, the Angels. 
Both big-name pitchers, both still relatively young with
nasty
stuff. So, which team got the better deal — the White Sox or the Angels?
Let's breakdown how each trade was consummated.
The White Sox sent infielder Eduardo Escobar and lefty pitching prospect Pedro Hernandez to the Twins for Liriano. If you're like me and have trouble following all of the young talent coming up through the minor league ranks, you're probably wondering just 'who exactly are these two?'
Let me start off by saying that they're both young at only 23 years of age. Escobar was hitting .207 (18 for 87) with four doubles and three RBI's in 36 games for the White Sox.
Hernandez, on the other hand, has spent the bulk of his time in the minors, splitting time between the Double-A and Triple-A clubs, going 8-2 with a 2.94 ERA. Looks great right? Well, let's just say it's a good thing Hernandez is still so young. He made his big league debut on July 18th against a disappointing Boston Red Sox team. They lit him up for an astounding eight runs through four innings of work. Ouch.
Needless to say, with how these two youngsters performed during their time in the big leagues, it's probably better in the long run for their respective careers that they're both being sent to Minnesota's Triple-A affiliate in Rochester to get some more seasoning.
Liriano (3-10) has struggled mightily this season. The former 2006 MLB All-Star who, along with Johan Santana at the time, was expected to be the present and future for the Twins. Fast forward to now and Santana is obviously turning his career around with the Mets while Liriano has played musical chairs between the starting rotation and bullpen because of his inconsistency and injuries.
Liriano, 28, is entering what should be the prime of his career. Hopefully, the old adage about how a change of scenery can do wonders for a player whose down on his luck comes true — both for Liriano and the White Sox. Considering Liriano is leaving a middle of the road offensive club in Minnesota to join one of the best hitting teams in baseball in the White Sox, you've got to like his chances.
The White Sox hold a slim lead over the surging Detroit Tigers, who were the preseason favorite to win the AL Central. No doubt the White Sox are hoping that, with Liriano now in the fold, they can hold off the Tigers and claim the division crown.
Greinke, also 28, was acquired by the Angels to help them make that final push to the World Series. If you didn't think they were serious about winning before (not sure how anyone would think that considering they spent approximately $330 million this off-season), the Greinke acquisition should be telling.
Like Liriano, Greinke is also set to become a free agent at season's end, so he'll no doubt be pitching for a new contract, which, some people believe, makes a player perform better. The Angels parted with their top prospect in 22-year old Jean Segura as well as Double-A right-handers Ariel Pena and Johnny Hellweg.
First off, let me start off by saying this — is it just me, or do the Angels seem to have the best and deepest farm system in the entire league? I think it's safe to say at this point that anyone whose a baseball fan knows who Mark Trumbo and Mike Trout are — two young studs tearing it up in the Bigs this season. Where did they come from? You guessed it — the Angels' farm system.
I thought the farm would be close to completely depleted after these two joined the big league roster. Apparently, I was wrong. Segura was the Angels' latest top prospect, a young middle infielder who everyone around baseball said had the tools to be an everyday player in the middle infield in the not-so distant future. Now, he, along with Pena and Hellweg, will take their talents to Milwaukee.
You might be wondering, why give up so much young talent and sacrifice your future to get a pitcher who at this point, is a mere mid-season rental? It's simple, really. The Angels' time is now.
Greinke, the former 2009 AL Cy Young Award winner, is coming to what was already a top-flight rotation that featured studs like Jered Weaver (who's in the running for the 2012 Cy Young), Dan Haren and C.J. Wilson — guys who are all in their prime. If you ask me, that has to be one of if not
the
 best overall starting rotation in the majors from top to bottom.
Oh, and did I forget to mention that the Angels also inked 32-year old Albert Pujols last off-season? Yeah,
that
Albert Pujols. This team is stacked from top to bottom with All-Stars spread throughout the roster. Did they give up too much for a two-month rental of Greinke? Probably. But like I said earlier, the Angels' time is now, and getting Greinke, no matter what the cost, puts them right back in the thick of things for World Series contention.
Final thoughts: Despite overpaying for Greinke (anyone who landed him was going to have to overpay), the Angels clearly made the better deal. If this team doesn't find themselves in the World Series, I'll be extremely surprised.
Be sure to follow Beard And Stache on Twitter 
@BeardAndStache
, and also Adam 
@Adam_Parker43
, Like our Facebook page 
HERE!