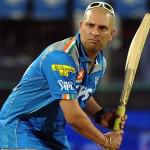 Yuvraj Singh, who was recently nominated for Arjuna Award by the BCCI, is all set to feature in the list of 30 probables for the World T20, to be announced soon. It's not sure, though, whether he will make it to the final 15, which is likely to be announced in August.
The South Zone pre-season tournaments become crucial for the left-hander and Krishnamachari Srikkanth & Co will keep a close eye on how the player shapes up during those tournaments.
The selectors would like to see whether Yuvi is able to last the distance of a high-voltage T20 encounter. The biggest test for Yuvraj will probably be the Buchi Babu tournament, which will be played in the heat of Chennai in mid-August.
If he does well in that tournament, there's no reason why the left-hander won't be on that plane to Sri Lanka.
Harbhajan Singh, who is also trying to make a comeback, too will be there in the list of 30. The pressure will be on R Ashwin, Rahul Sharma and Pragyan Ojha to be at the top of their game.