It's been YEARS since I last loved a non-nauseating, floral blend of body lotion which I consumed down to the bottle's last possible squirt.  I was in college and I absolutely grew fond of the scent till at last it all vanished on me.  It was a Victoria's Secret lotion which was a gift, what's sad is I don't remember the name, all I remember is that it was part of the Secret Garden scent collection and the cream was a dusty periwinkle shade.  None of the existing scent names now seem to be it unless they've renamed it, the closest one I liked after that was Secret Crush, which you can still find now I think but even that was nowhere near as spot on pretty as that mystery one which for me was a PERFECT balance of floral, soapy, and fruity notes.  I'd rub it on after baths and I could really sense from the corner of my eye that when I'd step on campus and pass through a relatively close proximity crowd that the scent would catch the attention of a few random guys and even of some girls who passed me.  I'd hear mutters of "…ang bango naman nyan, anu kaya gamit niya…" with a follow up of something like "oo, tsaka di masyadong malakas".  Even one or two friends either male or female who'd carry a conversation with me in between classes would pause and ask "Sorry, I know this is corny, but is it okay to ask what scent you're wearing?  It's really nice." and since I was not brand conscious 'bout beauty at that point in my life I simply said  "Uh…it's just a lotion I use after baths, it was just given to me, but yes I like it a lot, I always use it…"   From what I've researched quite a few scents were discontinued from that line since 1999 when I first owned that lotion.
What I prefer about lotions versus colognes and perfumes is their subtle but lasting adherence to the skin throughout the day, the scent feels more "part of you" and gives quite literally an OVERALL more natural radiating fragrance since you've pressed it in and rubbed it through your body making it mix with your own natural scent.  I think that leaves a more lasting impression rather than certain "pulse" points of you emitting  pure fragrance from few target areas.  Yesterday, I sniffed a whiff (hehe) of something that doesn't smell exactly the same (I know because I wasn't reeling  from sudden memory flashbacks), but I know it's something that scores close to how much I liked that one from my past because of how quickly I had to look when I smelt it.  My friend, Yelle, walked in to meet me at their office and she had this on and was smelling quite lovely.  I just had to ask her what it was and she said YSL Parisienne Body Lotion was a "pasalubong" from her uncle that she puts on now after bathing.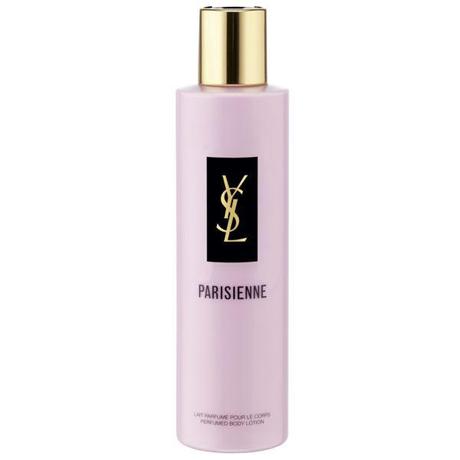 "Besides the official notes of Damascus rose, violet, peony, cranberry, patchouli, vetiver, musk and sandalwood, it also contains urban and bold aromas of vinyl and lacquer (didn't think this was part of it!), reminding us of the special scent of a cosmetic bag, make – up and high-heels on the hot city asphalt. "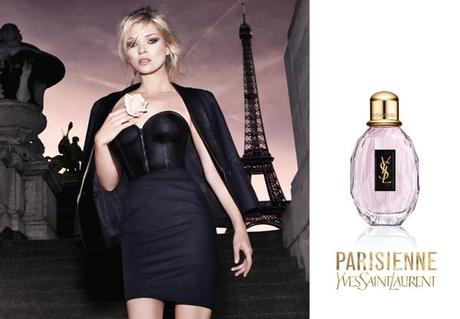 The official YSL fragrance, Parisienne, was released reportedly in about 2009, and Kate Moss was the alluring face of the fragrance.  So, with captivating ol' factory memories and Kate to consider, will I get the body lotion?  I won't plan my life around it because it doesn't fit into the budget.  I do hope somehow a bottle of this swings my way, it's absolutely unforgettable.  In the meantime, I'll do a hunt for that mysterious Victoria's Secret lotion that's eluded me for years at local department store counters…who knows, I just might find it.