This story is beginning to get out of hand.  Different stories from different people, players being way too outspoken, coaches not saying enough, lawyers releasing statements with unnamed quotes.  The NFL, it's faaaannnnntastic (wait, is that the wrong league?)
This comes from ProFootballTalk's post with the entire statement from Jonathan Martin's lawyer.  You can read it if you'd like, but he finishes strong with a quote from an unnamed teammate.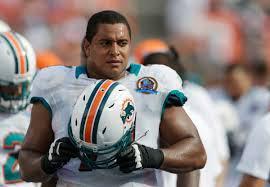 Who said this to J. Martin?
Quote from teammate: "We are going to run train on your sister. . . . She loves me. I am going to f–k her without a condom and c– in her c—."
Here's what I think he actually said, "We are going to run (to catch) a train (to visit my aunt) on your sister('s side)…She loves me.  I am going to (get a) fork (for) her (dinner tonight, and I would never have sex) without a condom (because I practice safe sex.)  Check in her car (for the winter gloves I left in there last week.)"
I really don't see what the big deal is?  Maybe it's not bullying after all and they were just having an adult conversation about their families.  Man, weird things happen down in Florida, huh?