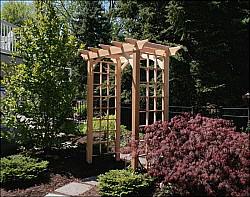 Looking for a remortgage deal in order to fund home improvements is becoming more and more popular, with less people able to move home in the current climate. Many undertake projects such as refitting the kitchen, redecorating or building an extension.
The purpose of this exercise if often to add value to the home. By remortgaging and borrowing additional funds against the property, you can potentially add thousands of pounds to the resale value of your property when you come to sell in years to come, which is the aim of most homeowners.
But one project that many people don't think about it the garden. By landscaping the garden, or making it more aesthetically pleasing and more interesting, you could increase the value of your home in a matter of weeks, and it doesn't have to cost a fortune to do it either.
Depending on how much you want to spend, you can do simple, quick and easy projects to make the area look nice, or you can add functioning and useful items. Adding a decking area where you can eat outdoors is extremely popular and can add value to the home very cheaply.
If you're looking to make the area look more attractive without spending much, digging out some borders, adding plants and hanging baskets and adding a new lawn can make the property more attractive to buyers – many will have an idyllic garden in their minds when looking for a new home, especially if they have children.
You may be able to add a summer house to the garden if it's large enough, where you can eat or drink in the summer time. If you also add in a sound system and lighting it becomes an extra room, which of course always adds value to a property.
If you have the funds available and the space, you may be able to add a swimming pool which will make your property value shoot through the roof, but remember it would need to be heated or covered as UK temperatures are usually rather low for swimming!
If you like the idea of water but don't have the space for a pool, you might want to think about adding a pond, or a water feature. Many people like the relaxing sound of running water, so by adding this you could sit potential buyers outside for 5m minutes to talk and let them see just how 'relaxing' it is living in your home.
Of course, keeping the garden tidy is a must when you have potential buyers looking around, so make sure the lawn is mowed, any cracked paving slabs are replaced and that there is no washing hanging out on the line as this looks untidy.
So as you can see, borrowing funds via a remortgage deal can really help you to make your property more saleable, and can also help you to enjoy your home a more enjoyable place to live while you are still living in it.
James McHeggins writes for JustRemortgages.com one of the UK's top sites for the latest remortgage rates and best remortgage deals.