Night time is the best hour to get your skin nourished and moisturized in a proper and proactive manner. As you sleep at night, a good night cream enhances the blood circulation and relaxes the muscles, thus making you appear bright and beautiful at morning. People with oily and acne prone skin type suffer from excess oil secretion in the skin. Hence they need to select the right night cream to enjoy maximum benefits.
Popular Night Creams for Oily and Sensitive Skin Type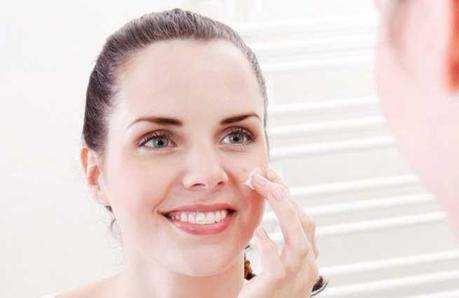 Some prominent night cream options that you can try out for your oily and sensitive skin include the following:
Olay Natural White All in One Fairness Night Cream (Rs. 325)
Non oily and thick in consistency, this night cream from Olay gets absorbed quickly and naturally; giving you a subtle and bright skin in the morning. It also helps in improving the skin tone without clogging the pores in an effective way.
Also Read – 10 Best Night Creams in India – Beauty Magic When You are Asleep!
The Body Shop Nutriganics Smoothing Night Cream (Rs. 1795)
Made of natural components, the Nutriganics Smoothing Night Cream of Body Shop protects your skin from various signs of aging such as dark circles, wrinkles, patches etc. It successfully reduces fine lines, hold firmness and elasticity of skin and protect it from sun damages. It has a light feel and moisturizes up to 12 long hours.
Kama Rejuvenating and Brightening Ayurvedic Night Cream (Rs. 1195)
This night cream may seem quite heavy and oily at first look; however it's light and easy absorbing when blended well on your face. Made from various ayurvedic ingredients that are natural and without any side effects, this skin also works wonder in rejuvenating and repairing skin cells. It moisturizes and lessens sun tan and dark patches in an easy manner.
Olay Regenerist Night Firming Cream (Rs. 1199)
From skin repair formulation to nourishing, this Olay skin firming night cream is an excellent choice to get rid of aging signs without struggle. It also hydrates the skin deeply, making your skin appear soft and shining.
Ponds Gold Radiance Youthful Night Repair Cream (Rs. 799)
To get back youthful and smooth skin texture within days, the Ponds Gold Radiance Night Repair cream is an excellent choice to bank on. Its micro gold particles add a natural glow to your skin by deeply moisturizing and protecting it from fine lines and dark patches.
Also Read – Best Whitening Night Creams in India for Flawless Fair Skin
Loreal Paris White Perfect Night Cream (Rs. 650)
Light and fluffy in texture, this night cream of Loreal gets absorbed in the skin easily, giving you a fresh and glowing look. It also fights against various signs of aging and dark circles that tend to make you appear aged and odd.
Kaya Nourishing Night Cream (Rs. 990)
Formulated especially for comprehensive skin repair process at night time, this cream from Kaya makes you look bright and beautiful in the morning. Its advanced composition of Azelaic Acid, extracts of Imperata cylindrica and Vitamin C antioxidants make sure that your skin is luxuriously soft and subtle within weeks of regular usage.
Also Read – 6 Exotic Homemade Night Creams for This Winter
Image Credit – Featured, 1